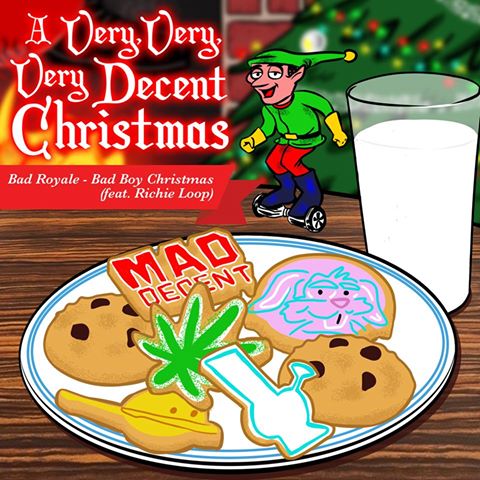 Christmas strongly affect also the electronic music world, there no doubt. Every year during all the month of December (and even before) I can see incredible events, with incredible guests, appearing from nowhere and in the most unexpected places, captive promotions and offerts to bankrupt Spotify and eMule and, mostly, tons of themed music. Dedicated mixtapes and playlists inspired by snow, Fatherchristmas, his damnit reindeers and candys, really sprout tirelessy like mushrooms on my Soundcloud. But, in this boundless universe, there is one single decent star that shines more than any other.
Yes, you understood right, Diplo and his Mad family are bringing once again their unique way to celebrate Christmas, and this time it's not only Very, not even Very Very but Very Vey Vey Dencent, so, paraphrasing the words of my boss Grant, "that means it is extra awesome". This year's formula contemplate that the tracks of the collection will be reveled day by day for twelve days, kicking of with the fabulous original reggae-inspired 'Bad Boy Christmas' by Bad Royale and the voice of Richie Loop.
Therefore, no matter if you are drinking to many glass of Eggnog or eating tons of cookies, no matter if you are busy buying presents for your hot girlfriend of for you hot Grandpa, but take your time to delight your ears with some holy noise.
[soundcloud url="https://api.soundcloud.com/playlists/173320979″ params="auto_play=false&hide_related=false&show_comments=true&show_user=true&show_reposts=false&visual=true" width="100%" height="450″ iframe="true" /]
Leave a Reply