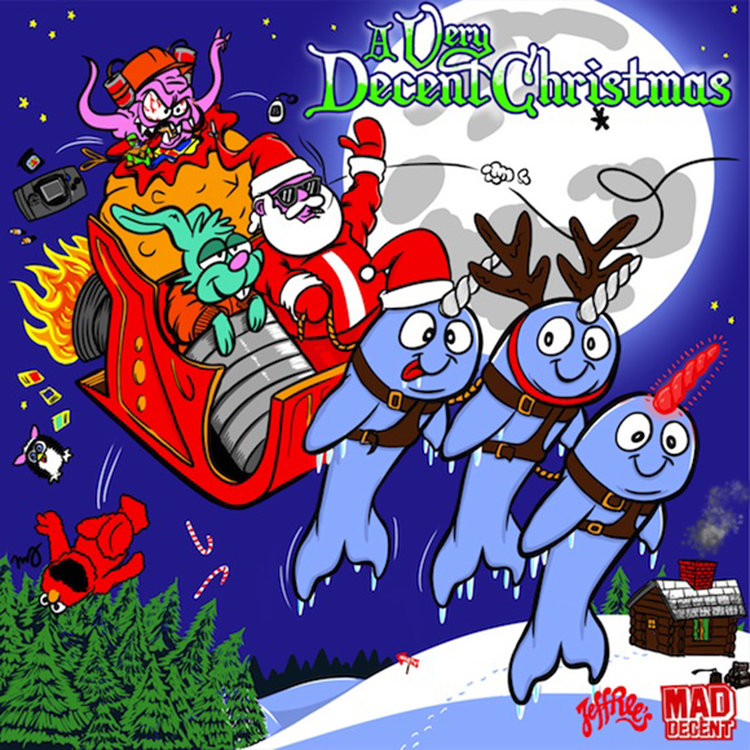 It is the holiday season and the crew at Mad Decent have decided to make our ratchet holidays a bit better with their special turnt up versions of everyone's favorite Christmas songs. Each track is a different holiday song that will get you in the mood for the holiday and make you want to twerk at the same time. I am now waiting for the house that decides to sync their lights with this album. Imagine the caroling? The album is available to listen to below and you can purchase it on iTunes to listen with your family and friends. Here is a word from Mad Decent:
Crunch, Crunch…Crunch, Crunch…. What's that on the roof? Is it a burglar or a vagrant? A vacuum salesman or a Sasquatch? Damn look, it's Santa on his sleigh with Kraang and the faded Jeffree's mascot tossing out Christmas dub plates for the entire land. I think it's safe to say that here at Mad Decent we caught the christmas spirit hard this year. We went all out and had our biggest tunes remixed by the artists themselves xmas-style for your pleasure. Laid out here are some serious xmas re-imaginings from Diplo, DJ Snake, Gent & Jawns, Juyen Sebulba, Astronomar and Kennedy Jones. Also on the original side of thing, Vjuan Allure gives us a vogued out reindeer stomper with "RUDE OFF 2013" and Mitch Murder unleashes a fireside roasted chestnut R&B ballad with help from Santell.

FREE DOWNLOAD of DJ Snake – "Bird Machine (feat. Alesia) [Jingle Bells Version]"
Merry Turnt up Christmas and a Ratchet New Years!
Leave a Reply