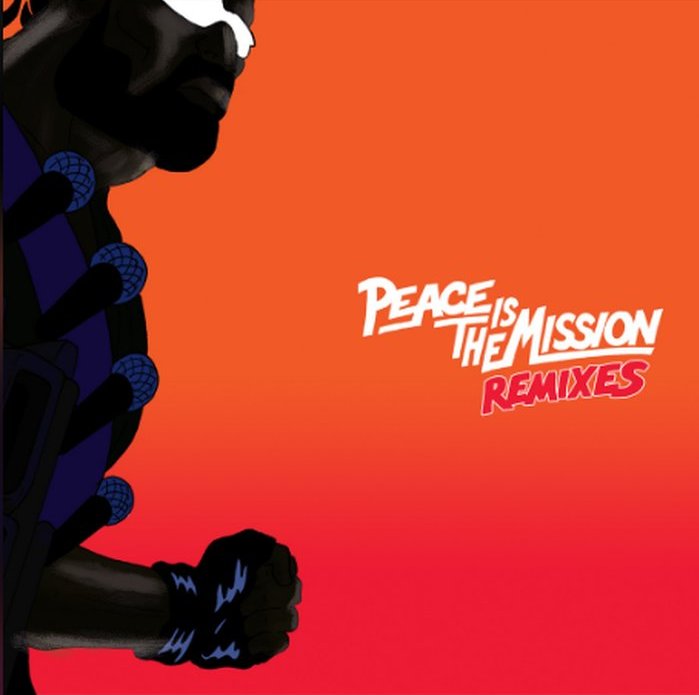 It is, according to recent publicity and social media posts, the one-year anniversary of Major Lazer's release of the album Peace is the Mission. In the announcement video, Walshy Fire states Peace is the Mission was dropped "exactly this time last year."
To celebrate the release of this new album, Major Lazer released a new LP, titled "Peace is the Mission (Remixes)". The LP takes the majority of the original album and presents new remixes of the songs, from some of the Major Lazer crew's friends and colleagues.
You can get the LP by free download here and can also give it a listen via Soundcloud:
[soundcloud url="https://api.soundcloud.com/playlists/230178256″ params="color=ff5500&auto_play=false&hide_related=false&show_comments=true&show_user=true&show_reposts=false" width="100%" height="450″ iframe="true" /]
1. Be Together (Feat. Wild Belle) [Cut Snake Remix]
This remix has almost a swing or funk-style to it. It is also nice that Cut Snake decided to speed up the tempo a bit. The lyrics seemed to be almost pushed by the funk/swing instrumental. The remix is heavily influenced by instrumental pieces
2. Be Together (Feat. Wild Belle) [LIOHN Remix]
LIOHN decides not to alter the tempo and focuses more on adding a different style of instrumental. He adds a sample that is almost Major Lazer-esc, changing vocal stems into a vinyl-scratch sounding sample. As stated in an earlier review of the track, this is an upbeat and captivating party remix.
3. Too Original (Feat. Elliphant and Jovi Rockwell) [TJR Remix]
TJR's melbourne bounce style is noticed very easily in this track. dancehall and melbourne bounce are both key for dance parties. TJR combining Major Lazer's dancehall style with his bounce style was perfect for this track. The track is perfect for a bangin' party. In early Aprilwe said it was a must-have banger, and with the re-release it still is.
4. Blaze Up the Fire (Feat. Chronixx) [Rocky Wellstack Remix]
Wellstack takes Blaze Up the Fire and makes is an even more chill track. Keeping the reggae influences the track is slowed down a bit more to encourage Chronixx's roots. After the drop it flips totally to a heavy bass. The track got a completely new tempo and style of instrumental. This is, by far, one of my favorite tracks on the LP. The heavy bass kills the drop and the heavy-reggae during the vocals is a great combination.
5. Lean On (Feat. MØ and DJ Snake) [J Balvin & Farruko Remix]
This song has been out for a short while and it is my favorite track. J Balvin is one of my favorite Latin American vocalists and he adds an awesome verse to the track. As far as instrumental is concerned, There isn't much of a change. J Balvin and Farruko like creating "latin remixes" but don't like changing the lyrics too much. The diversity during the verses is a great switch up. Major Lazer loves diversity, so adding different artists on their remixes is a big up for them.
6. Lean On (Feat. MØ and DJ Snake) [Dillon Francis & Jauz Remix]
Dillon Francis was teasing this track for a while on his Snapchat (as he loves to do). Him and Jauz definitely have unique styles when it comes to remixing. The biggest difference, that you can hear, almost immediately, is the slowdown of the initial original chorus. The speed of the vocals are constantly altered, being chopped and screwed, to support the transitioning the two do in order to incorporate trap, moomba, dubstep and slowdown into the 4-and-a-half minute song. Nick was feeling this track last year, and it hasn't lost any of its appeal.
7. Powerful (Feat. Ellie Goulding and Tarrus Riley) [D.R.A.M. Remix]
D.R.A.M. initially hit this remix back in Decemberand made sure to make his impression right off the bat adding his own lyrics to the intro, instead of Goulding's. D.R.A.M. decided to take over the beginning the track, mapping over the original vocals with this verse. Major Lazer worked with with him to give him his shine. It also flows well into Goulding and Riley's original lyrics for the rest of the song. They add a more acoustic feel to the track, encouraging string and drum-kit instrumentals in several lulls in the song.
8. Powerful (Feat. Ellie Goulding and Tarrus Riley) [Gregor Salto Remix] 
This Powerful remix is a more upbeat version. It starts off with a progressive house beat that gets you moving and quickly cuts into a slow soothing melody to the lyrics. Chopping the lyrics up to repeat the chorus until the deep house style drop really lets Salto into his element, an awesome track that is great for festival season. The choruses are redone by chopping the vocals into a slow-tempo sections that lead to more catchy and rythm-heavy builds.
9. Light It Up (Feat. Nyla) [Quintino Remix]
The original version of this song gets played at almost every party I go to, and if I am asked to throw together a playlist of songs it is always on it. And after listening to how Quintino redid the tempo and rhythms, I may have to start adding this version. He really takes over during the drops. Throwing down a heavy bass beat is a huge difference from the original mix. The bass drives through the beat, giving it a vastly different style that opens with the lyrics, "turn up and whine your body".
10. Roll The Bass [Happy Colors Remix]
Happy Colors did not want to waste any time getting into switching up the instrumental style. This remix adds fast rhythms where there were once slow rhythms and almost takes the whole track, overall, down several octaves. It is very difficult to predict what will come next with the constant transition between samples during this track.
11. Night Riders (Feat. Travi$ Scott, 2 Chainz, Pusha T and Mad Cobra) [Cesqeaux Remix] 
Cesqeaux decided to take this remix and push it away from the hip-hop focus that the featured artists originally made it. The track turned into a darker feeling track. The verses are left relatively intact but when it comes to the drop, Cesqeaux makes sure to add his trap style that adds that "dirty" feel to it.
12. Night Riders (Feat. Travi$ Scott, 2 Chainz, Pusha T and Mad Cobra) [Neo Fresco Remix] 
Neo Fresco creates a drum and bass heavy track to end out the LP. Rim shots, bass synths, and other percussive instrumentals redo the entire instrumental aspect of this Major Lazer track. Again, the focus was taken slightly away from the vocalists on the track and brought back to the dance world with this strong track.
Overall, I really like this remix LP. I think there should be other tracks on the original LP that should have gotten the remix treatment, but the selection of remixes that Major Lazer felt should be released for their fans is perfect.
TRANSMISSION FROM MAJOR LAZERhttps://t.co/8FtMNTjjMohttps://t.co/az9lc6Db3S

— MAJOR LAZER (@MAJORLAZER) June 1, 2016
TRANSMISSION FROM MAJOR LAZER

Posted by Major Lazer on Wednesday, June 1, 2016
Leave a Reply