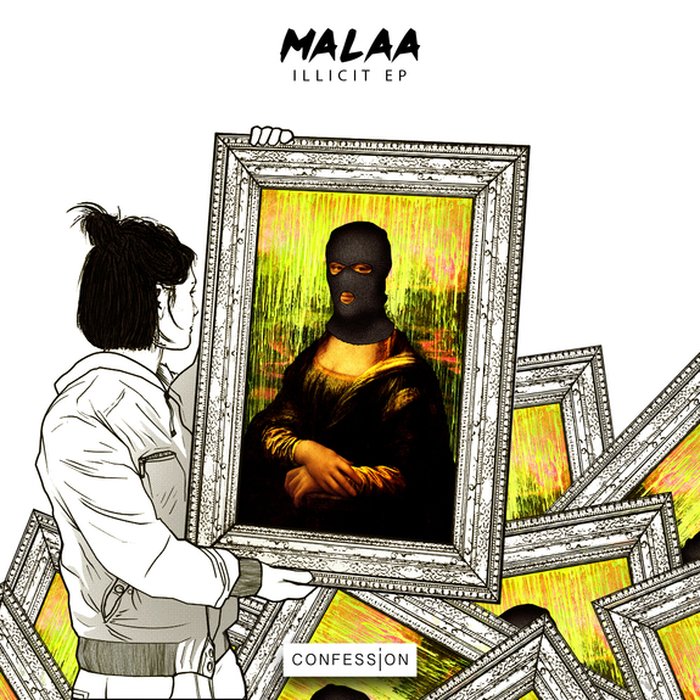 After the mystery of 'Who Is Malaa', Malaa seemed to go into hiding.  It seems that not being accused of being artists is because he has been working on the four track Illicit EP .  Produced on Tchami's Confession record label, Malaa released Illicit to give pleasure to his fans has fame continues to pile up.  Below is the album followed by a breakdown by track.
[soundcloud url="https://api.soundcloud.com/playlists/238830364″ params="color=ff5500&auto_play=false&hide_related=false&show_comments=true&show_user=true&show_reposts=false" width="100%" height="450″ iframe="true" /]
1. Illicit Intro
As a monologue that goes on for a minute and a half, Illicit's intro is a track that doesn't show off Malaa's mixing skills, but more his vocal distortion technique.  This is the kind of track that will get any listener ready for some dark, haunting, or slightly creepy tracks.
2. Diamonds
Diamonds has been a single Malaa has allowed teases for quite some time now. When I saw Malaa perform at Ultra, he played a sample of the track.  That same weekend I heard the track being played during the Tchami track.  I love the rhythm that he chooses during the song.  There are no highly fluctuating pitches during the track.  It sticks to the driving bass and supporting rhythmic patterns that you expect from a  Malaa.  There is, of course, the now-expected vocal distortions that repeat a simple set of lyrics throughout the song.
3. Frequency 75
This track starts off heavy with a standard bass to push.  The track catches my interested because of how key percussion samples seem to be to the overall track.  Taking a mix of 16th note and triplet snares as well as samples of electronic drums to make a rhythm that flows with the eccentric vocals that vary in style makes this song an excellent song for any shufflers who enjoy listening to Malaa.
4. Danger
The final track, Danger, flows smoothly after listening to they styles of Frequency 75.  A much more violent vocal "…when I run up on ya…" is the vocal that Malaa decides to distort for this track.  Nonetheless, this track is another bass driven track with the "wobble" sample that makes the track seem even more trippy. The breakdown that happens half way through the track gives fans an change up from the heavy bass and for about lets the other samples really show out.  kick drum, snare and the wobble create a buildup that brings back both the bass and the vocals.
If you're interested in purchasing Illicit – EP, you can head here to make the purchase.  Malaa is only getting bigger and bigger, so make sure to keep watching Confession for what he will be putting out.
"Illicit" EP Tracklist pic.twitter.com/HfAI92S5Ti

— Malaa (@Malaamusic) July 4, 2016
Leave a Reply