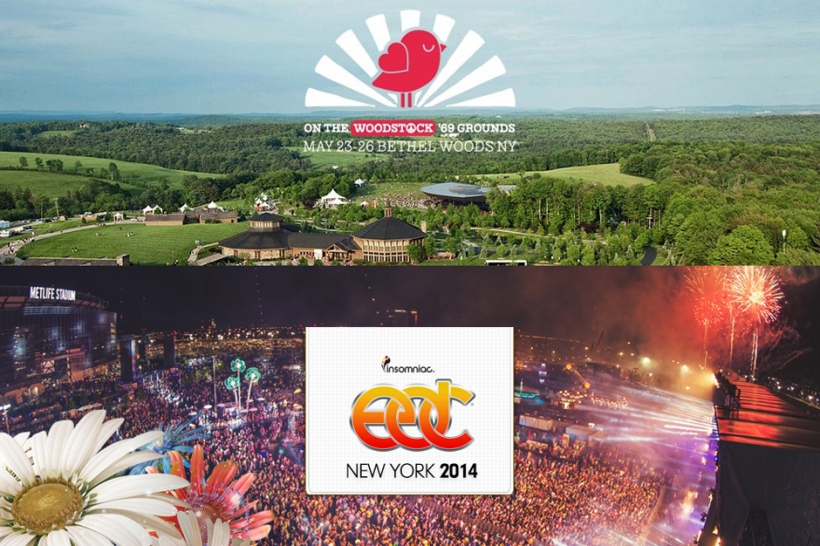 Mysteryland 2014, it's debut weekend came and went in the blink of an eye. Thousands of ravers migrated to the legendary spot in Bethel, NY known as Woodstock.
When someone asks me if I want the good news or the bad news first, I always say the bad news so we can end on a good note. I am going to do the same for you. Like everything in life, there was a duality to Mysteryland. Light and dark. Good and bad. However, the good definitely outweighs the bad in terms of this festival but it still has to be known.
First of all, the security. I have never been to a festival where it was THAT intense. Mysteryland was dubbed a "zero tolerance" festival. So you can imagine what that entailed. As you arrive, there were lines of cars being subjected to a car search. Basically looking for kegs of beer and NO2. That is pretty standard, what wasn't was the drug dogs. A couple K-9 units manning the front of the security check. My crew was one of the lucky ones who did not have to deal with our canine friends but I can feel for those who did and are know dealing with a drug charge. You would think one drug dog checkpoint that would be enough, but that was not the case. There were K-9 units inside the camp ground walking around! If that's not the definition of bad vibes, I don't know what is.
You then park in a massive grass field and start unloading your stuff. The walk from your car to the camping entrance was at least a half mile and there you had to wait in yet another line. The camping entrance was another search with more dogs and power tripping security guards digging  your stuff. After that, you were in. The security staff delegated where you camped which I disagreed with but at least we were finally in. There is something special about the organized chaos of other camping festivals that you don't get when everything you do is following an order.
The next problem was the cashless wristband. They charge you $10 right off the bat to put money on it. And it's mandatory? To me that sounds like a scam to make more money. The kicker is, they didn't work half the time! Vendors had food ready and prepared but couldn't sell it because their cashless wristband scanner wasn't working. This happened more than 3 times when I tried to purchase food and drinks. If you're going to have this revolutionary new way to purchase goods at a festival, make sure it works or it's pointless.
Lastly, the distance from the campground to the actual festival. It was a good 15-20minute walk (depending on how inebriated you were). There was no, "Let's go take a couple shots before Dillon Francis" because you wouldn't get back in time. Not only was it a long walk but there was a steep hill to climb once you got onto the festival grounds. I was quite frustrating especially when your feet hurt from dancing and standing all day.
OK. Enough of the bitching and onto the good stuff…
Mysteryland killed it lineup and production wise. The $10 Million they spent on production was absolutely mind blowing. The main stage was unreal.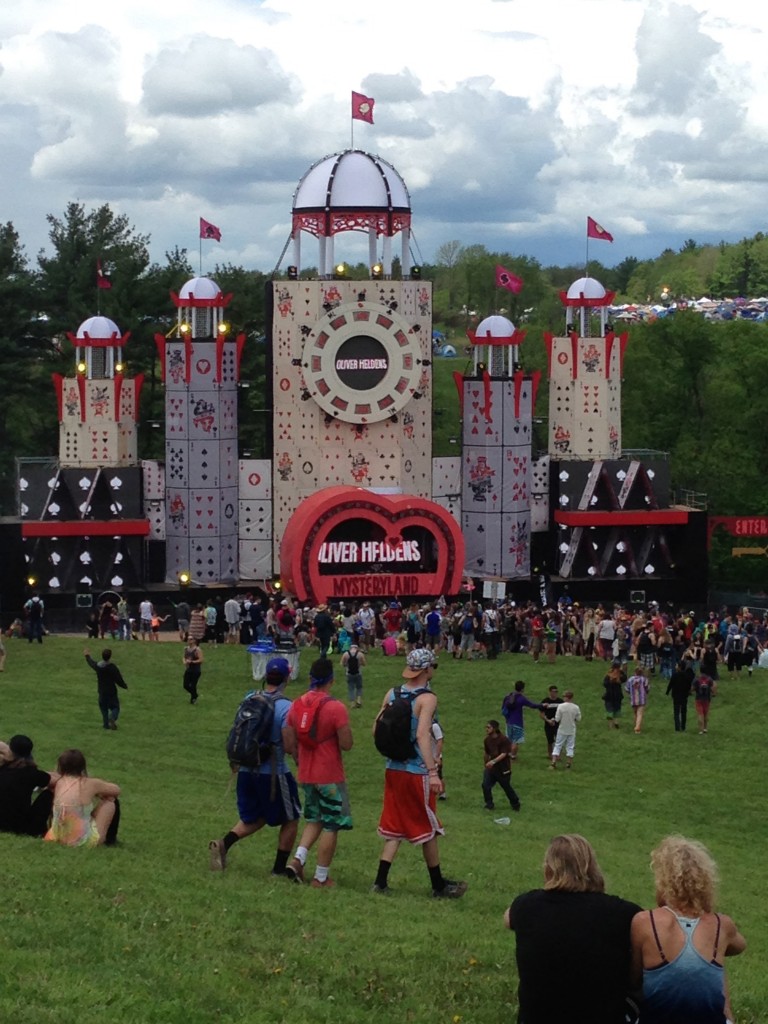 I have never experienced a concert stage like that in my whole life, it was truly incredible. I can't imagine the time it took to design and set that up.
All the stages were equally mesmerizing. The Q-Dance, the Boat, Sunday School and the Spiegeltent. The Sunday School was the classic two buses facing one another with projection screens on either side. The Spiegeltent was a round mini club set up in the middle of the field all made out of wood. It was reminiscent of a saloon, complete with swinging doors.
The Boat Stage is where I spent most of my time.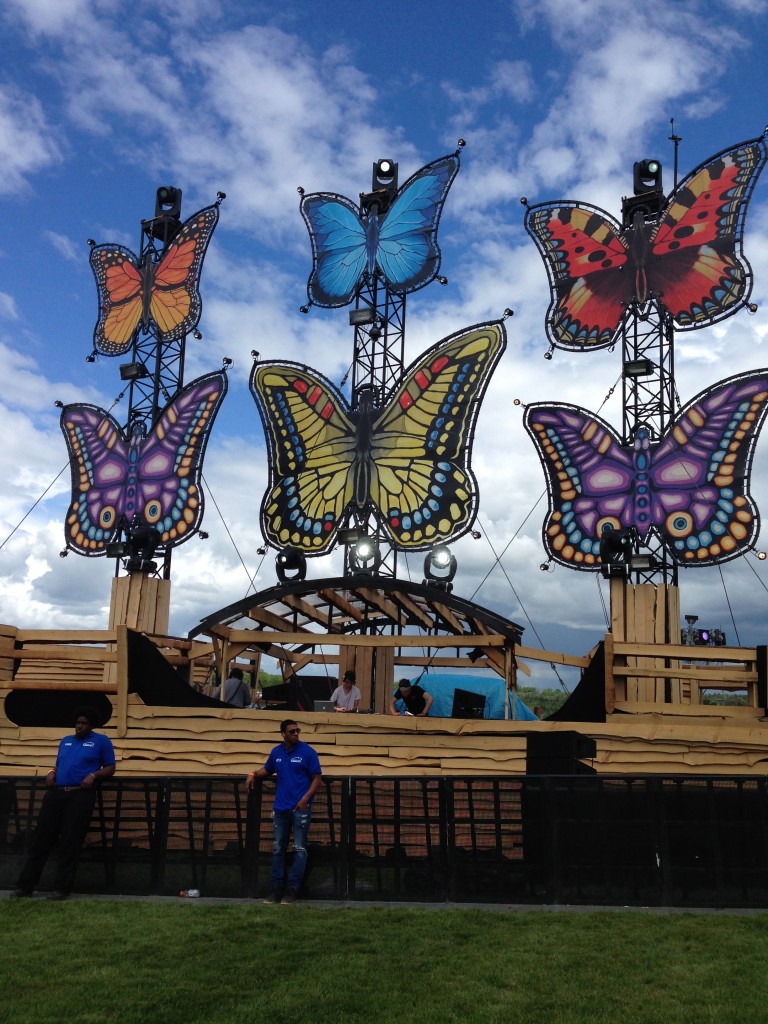 The highlight of Saturday was without a doubt Zomboy. I've never heard anything like that live. He created these ferocious swirling drops that had our jaws hitting the floor. I couldn't believe what I was hearing. I've been to countless dubstep raves, seen countless DJ's at festivals but nothing compared to Zomboy on Saturday night at the Boat stage. There is no way to explain it verbally or written, you have to experience it yourself.
Big Gigantic came on after Zomboy, which was definitely a hard act to follow but they pulled it off beautifully. Their mixture of sax, drums and bass had the crowd moving till the early hours of the morning.
Sunday was a trap filled day for me. A lot of people hate on trap and that's fine. I would suggest going to see it at a festival. There is nothing like it. House, hardstyle, moombahton, deep house make the bottom half of your body move more so then your top. On the contrary, dubstep and trap are very top body orientated. They make your torso sway back and forth. There is nothing wrong with either but if you want to rage at a festival go see the latter.
Milo and Otis opened up the day. This power duo really knew what songs to play to get the crowd rocking. Their unique sound filled the air with bass and the crowd was energized. Next up was gLAdiator. By far one of the best sets of the weekend. Starting off their set with bunch of house tunes that had everyone jumping. They quickly turned up the notch with some festival trap. I have to give props to Danl and Ian from gLAdiator, they truly know how to interact with their fans. Danl is constantly making eye contact with whomever he can and vibing off their reaction. It makes the show more personable. It's rare you see DJ's that give a shit about who's watching them. They are a force to be reckoned with, a perfect set played for a ready and willing crowd.
Next up was the highly anticipated GLADPVCK, a combination of gLAdiator and LOUDPVCK. For me, you can't get much better than that. Boy, did these dudes deliver. It was like throwing a lit match into a barrel full of M80's. These 4 guys had the crowd swooning. It was madness at the Boat. Sadly the set was only a half hour long. LOUDPVCK was up by themselves for the next hour. As if GLADPVCK set wasn't enough, the crowd turned into a frenzy for LOUDPVCK. It was a trap-mania. Woodstock has never heard bass that heavy, Jimi Hendrix would've shit his pants. Ryan and Kenny know how to get people turned up, an excellent addition to any EDM festival.
Other highlights of the final night were Brillz, Bro Safari and Dillstradamus. The focal point of their set was when they decided to throw $1000 worth of $1 into the crowd.
All in all, Mysteryland was an incredibly fascinating experience. There are definitely somethings the organizers need to work out but the bang for your buck is there. The money you spent on your ticket is worth what you get. The gorgeous land, the stellar production and prodigious line up make it all worth while.
Leave a Reply