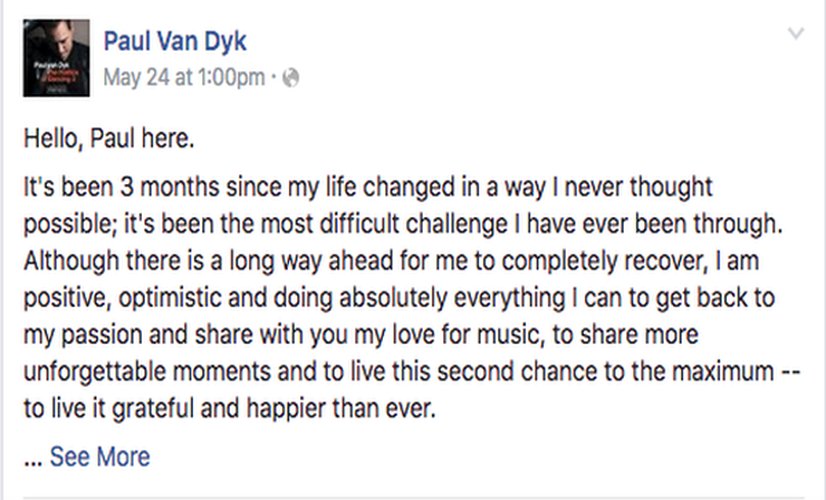 On the 27th of February, Armin Van Buuren took to social media to announce the unfortunate news that Paul van Dyk was performing at the ASOT 750 Festival in Utrecht, Netherlands and fell off of the stage. Since then he has been going through a rigourous recovery process.
On April 6th, Paul van Dyk's management took to his social media to announce an update about how he is doing. It was an update to state that there was still rehabilitation going on and that all of PvD's shows through Mid-June were going to be cancelled so that he could recover completely.
May 24th, a statement was posted on his Facebook page (the shared on twitter) that he is positive about how his rehabilitation is going and he cannot wait to get back to performing and sharing music. He ended the letter with, "In mid-June, I'm returning to do what I love doing the most and am looking forward to seeing you all again!" Below you can see the full announcement on his Facebook.
A message from Paul.. read the full letter here https://t.co/pZfHCKd07D pic.twitter.com/9L9cAPsXIQ

— PAUL VAN DYK (@PAULVANDYK) May 24, 2016
On May 31st, Paul took to Facebook, Instagram and Twitter in order to make that announcement official. The announcement was that he will be performing at EDC Las Vegas and will be taking part in the Dreamstate takeover stage during the weekend.
I am incredibly excited to confirm that my first performance will be for @DreamstateUSA at @EDC_LasVegas! pic.twitter.com/XjTnlfLSBI

— PAUL VAN DYK (@PAULVANDYK) May 31, 2016
After these announcements Billboard Dance was interested what will be happening next for the DJ. Therefore, on June 7th, they sat down with PvD to see what was happening in his life, how rehabilitation was going, and what the past couple of months were like. You can check out a list of highlight quotes below and check out the full interview here.
.@PaulVanDyk discusses miraculous recovery, return to music after serious fall (exclusive) https://t.co/YvyvzRJsiz pic.twitter.com/dyHAdzbX54

— billboard (@billboard) June 8, 2016
Question: Do you remember the fall?
I don't remember the fall itself any more. That's what luckily enough the brain does — it protects you from those traumatic memories."
"I had a traumatic brain injury, I broke my spine twice, I had a lot of bruising, and an open wound at the back of my head."
Question: What have been the steps in the recovery process?
"The first four or five weeks I was actually still in the wheelchair. Because of the brain injury, I had to learn to walk again."
"I had to learn how to speak; I had to learn how to eat."
"In one or two years, I may be back to 100%, or should I say, the new 100%. The doctors say I won't be able to do as much as I used to do."
"The first prognosis that was given to my mom and my fiancée the day after the accident was that we can be really happy if the organs that are necessary to be alive will keep functioning."
"There are three states of traumatic brain injury – mild, moderate, and severe – and I was in the severe part."
Question: You left the hospital recently, what was it like to go home?
"First I was a bit insecure – in the protected environment of a hospital, you know you can't do this, you can't do that."
Question: What are your plans moving forward?
"I had a lot of music ready and we were planning on releasing a new album this year. Because I lost all the time and the focus on it, that's not going to happen. So we're planning on this to be finished for 2017."
"I start touring – we're doing EDC, which I'm really looking forward to. We're doing the Ibiza season and festivals in Europe."
"We're doing substantially less to make sure that every single time I play I give the 100% that people are used to."
Question: Do you feel nervous about returning to the stage?
"Not really. From a health point of view, my body still hurts. But the thought of playing my music again in front of my audience keeps me excited and drives me."
Question: Have you been listening to music?
"I was listening when I could — that helped me as well to stay in the real world."
"I'm still the music loving freak I was before."
Leave a Reply