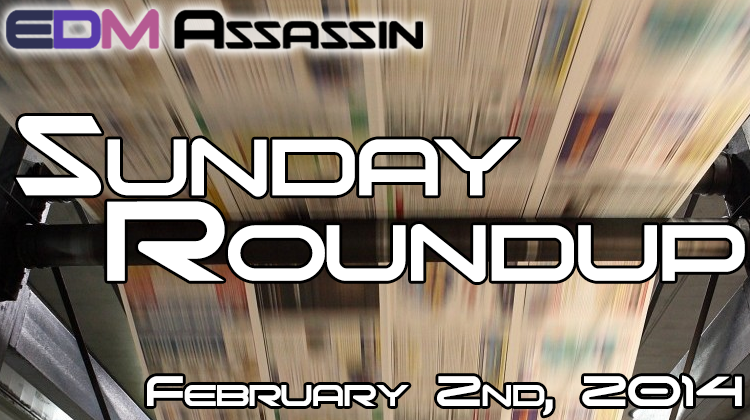 This is shameless advertising, but I don't care since this is our site. We officially started a podcast. We talk about everything that we do on the site here: new music, new events, reviews, previews, news, etc. etc. etc. It is awesome. It is hosted by Squigz and GibStarr along with me sometimes. We submitted it to iTunes so expect to be able to subscribe. We hope to get it on YouTube and Soundcloud as well, but for now it is on this site to stream and/or download! Awesome. Plus, I purchased a new (and better) microphone and I do not plan on skyping from my iPhone with my iPhone mic/headphones. Check it out here!
New Las Vegas Nightclub, After, Bans Mainstream EDM
This is one of the funniest stories I have heard in a while. There is this new club that opened up in Las Vegas called After. Essentially, it is an afterhours club as it opens up at 3:30am and closes at 8:30am. Normally new clubs come and go, but even before this opened, they made a name for themselves and underground EDM. They "leaked" a photo that bans all mainstream EDM and lazy artists. A #proper afterhours.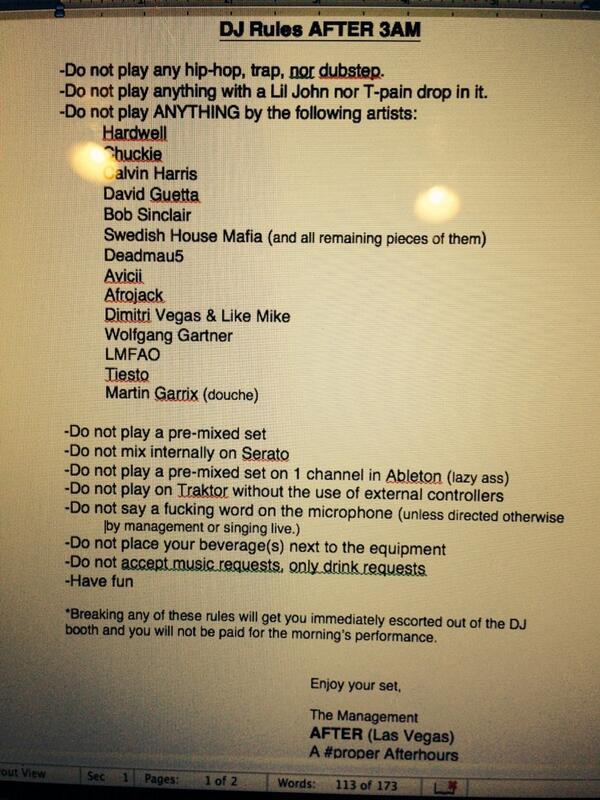 Dillon Francis's Track to Appear During Super Bowl
Dillon Francis's hit track, "IDGAFOS" is going to be played on a Super Bowl commercial. It is for Beats Audio's brand new application. You know them for the headphones and the pill. Now they have an app that plays music for you. It features Ellen DeGeneres and it has been already shown on her television show. Check it out below. *Note* The bear looks like Skrillex
A-Trak Featured in Super Bowl Commercial
Unlike Dillon Francis who has a song during a Super Bowl commercial, A-Trak is starring in his own Super Bowl commercial with Cadillac. In the commercial, they are featuring the brand new crest of Cadillac as well as the ATS coupe. It is very trippy, but very awesome. You need to check A-Trak out!
Afrojack to Premiere New Track During Super Bowl
Afrojack took to his twitter to say that his new track, "Ten Feet Tall" will premiere in a Bud Light ad. On top of that, he along with Bud Light will give away the track for free for those who Shazam the song during the advertisement. Be on the look out!
Porter Robinson Announce His Residency at Marquee
Porter Robinson is taking his talents to Marquee after having a residency at Wynn. The now 21 year old is insane when it comes to live and he is going to be playing his new stuff that will premiere soon along with the classic sets that everyone loves. Porter took to Facebook to announce this and said:
"i'm proud to announce i'll be doing a residency at marquee in las vegas this year.
once my new album comes out, i'll be doing a tour featuring a totally new kind of live show – so marquee will be one of the few places to see my classic style of dj set. hope to see y'all out there~" – Porter Robinson
Random Access Memories Back to #1
Following Daft Punk destroying at the Grammys, their Grammy award winning album, Random Access Memories has shot up back to #1 on Billboard Charts. The album found a 91% jump since the Grammys which is absolutely awesome. If you haven't heard the album or have the album, you're loco!
Ultra Music Festival Announces Setlist
For the last few months, we announced the first phase of Ultra Music Festival and the second phase of Ultra Music Festival. Now while this isn't the final setlist as they always have Phase 3 to announce, they released the first tentative look at the setlist with all the stages. Check it out here.
Thanks for reading this week's Sunday Roundup! I'm sorry there wasn't any last week. I had just come home from Mexico and developed pneumonia so I wasn't quite up to par. Truthfully, this is why I wasn't really posting all week. That said, look forward to this week and be excited!
Leave a Reply