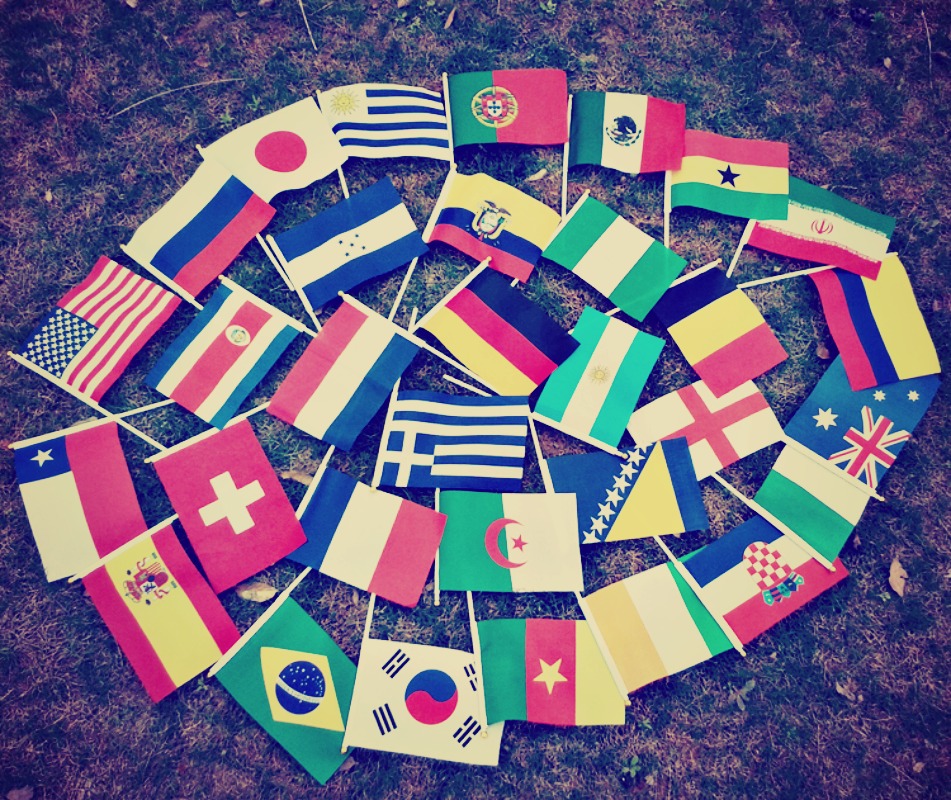 After giving it some serious thought, I have come to the realization that 2014 is a truly special year. As both an Olympic year and a World Cup year, dozens of countries from around the planet have joined forces for one beautiful event in both February and June. People from all different walks of life have come together with their different lifestyles, interests, religions, politics, and cultures – yes, that includes the music! I love it when the mixing of cultures takes place like this. Even though we are all different in many aspects, we can come together as one human race and not only accept our differences but find them really cool and exciting to explore! That is why I wanted to spread this universal love to EDM Assassin. The dance music community has certainly been celebrating World Cup season, with DJs like Diplo releasing World Cup mixes and others like Tiesto posting photoshopped photos online of their home country's football team with DJ heads. Everything happening right now is all in good spirits, and with house music being all about the peace, love, unity, and respect, it is only fitting to bring those vibes and that music culture into the mix. Stick around, because you're about to listen to how the culture we love so much has its own flavors in every country competing in this year's FIFA tournament. I've selected a DJ or producer that calls each country their home, and I'm showcasing a track from each that represents the essence of their homeland. Get ready, because we're about to make the world move.
Algeria
Kalitwooz – Bright Dreams
Kalitwooz is an Algerian producer that specializes in electro house and progressive house. However, it is not what you would expect from standard house tracks. This is far from big room. If anything, this is borderline trance. Whatever you call it, Kalitwooz represents Algeria well and brings a positive, uplifting vibe to house music.
Argentina
Marquetti – Involution
Marqueti is a progressive house and electronica producer from Argentina. This melodic sound is perfect for South American nightclubs. Be sure to give 'Involution' a listen, and check out more tracks that Marqueti has to offer.
Australia
Will Sparks – Bring It Back
Will Sparks is no stranger to EDM Assassin. Hailing from Australia, Sparks isn't just the typical electro house DJ. He rose up to extreme heights for his distinct sound, which we know as Melbourne Bounce. If you've never listened to Will Sparks before, Melbourne Bounce is a style of house that sounds just as the name suggests. Loud, effect-driven tracks that bounce from wall to wall; perfect for big room nightclubs. They may live 'Down Under', but they know how to bring the beat up top!
Belgium
Basto – BONNY
Another artist who has appeared on EDM Assassin before, Basto is a Belgian progressive house producer. Like Sparks, Basto also has a very distinct sound from his progressive house contemporaries. The majority of his discography has a very upbeat Balkan party quality to it, with some hard-hitting drops added to the mix. For an example of how Belgium gets it done, just check out 'BONNY' below.
Bosnia and Herzegovina
Mladen Tomic – Island
Our first techno and tech house artist on the list, Mladen Tomic represents BIH with some good old classic house vibes. 'Island' is a tech house gem you'll hear late at night at the club that gets the dance floor really in a groove. Mainstream house is cool in its own way, but once you can appreciate tech house artists like Tomic, you'll be able to fully appreciate house music so much more.
Brazil
Gui Boratto – Arquipélago
We've finally reached our host country! While Rio de Janiero and Brazil are lighting up with the World Cup Round of 16 about to commence, we've got tech house titan Gui Boratto mixing things up the Brazilian way.
Cameroon
Missy BK – Set Me Free
Missy BK, also known as Constance BK, is a dance pop musician based out of Cameroon. This upbeat style of dance music is reminiscent of artists like September and Cascada and makes for a fun night out.
Chile
Ricardo Villalobos – Dexter
Ricardo Villalobos is a Chilean electronica and tech house producer. This style of tech house is heavily driven by synth and strings. It's very minimal, but sometimes keeping it simple creates the best art.
Colombia
Alex Young – Madlibs
Tech house and techno producer Alex Young puts a Colombian spin on the dance floor. It's more upbeat than the Chilean tech house you would hear from Villalobos. This Colombian style is much bouncier, but it also relies on synths.
Costa Rica
Bartosz Brenes – Let's Get Right
Costa Rican Bartosz Brenes is known for his electro house sound. His track 'Let's Get Right' with Bass Kleph takes electro and gives it a more progressive musical flow.
Croatia
Parrket – Sensation
Croatian Parrket is a tech house and deep house producer. Unlike more downtempo deep house tracks being churned out of the UK right now (which we'll talk about later with England), this Croatian sound is much more upbeat and party-ready. They've always said Croatians know how to party like nowhere else on Earth, and I'm starting to understand why.
Ecuador
Oscar Troya – Lost In Your Eyes
Electro house and progressive house producer Oscar Troya makes what I would just like to call 'sexy music', whatever that would be. His winning combination of progressive house with the musical styles of Ecuador is a match made in heaven. Dance music is great, but South American influenced house music? I don't think you can go wrong.
England
Duke Dumont – Won't Look Back
The UK is known for its insane roster of talent in house music, with heavyweights like Calvin Harris, Example, Flux Pavilion, The Chemical Brothers, Fatboy Slim, Above & Beyond, The Prodigy, Knife Party, and many, many more. However, for England I am choosing to highlight the rise of 90s house revivalism happening in the region. Yes, deep house is rising to higher heights than ever, with more global recognition than even during the mid-90s. Artists like MK, Route 94, Disclosure, and Hot Natured are just a few of the musical pioneers of this revival. Even major stars like Kaskade have visited the sub genre multiple times over the years. There is one artist that really needs the recognition, and that would be Mr. Duke Dumont. For the past few years, Duke Dumont has been slowly bubbling up, and finally the world is catching on to his addicting tunes, from 'Need U (100%)' and 'I Got U' to his latest single, 'Won't Look Back'. England is the capital of deep house, and rightfully so.
France
Bob Sinclar – Far L'Amore
Bob Sinclar was not only my first ever club experience but my first with live DJing in the dance music world. It was love at first beat. Bob Sinclar has all of the qualities of a talented producer and DJ, and in a country where competition from the likes of David Guetta and Madeon is extremely high, his success is impressive and well-deserved. He makes those classic French progressive tunes you can just sit back and relax to as you get sucked into another world.
Germany
Cosmic Gate – Yai
The Germans are masters in football, and they take their house music just as seriously. German trance and progressive house are forces to be reckoned with, and Cosmic Gate is the king. 'Yai', his latest release, easily demonstrates why that is the case. Listening to tracks like this just makes me wish they could really take me there.
Ghana
Atumpan – Nyash
Think of Atumpan as Ghana's Don Omar and 'Nyash' as their 'Danza Kuduro'. Atumpan is able to mesh traditional African musical elements with house music for a lively tune of celebration.
Greece
Dousk – Sleipnir
Greek tech house and progressive house producer Dousk represents his nation in style. His unique blending of tech and progressive house provides for a great addition to a set on the exotic dance floors of Greece. Let's be real: it's beautiful music for beautiful people.
Honduras
Jose Villeda – Parallel Things
Jose Villeda is a tech house and techno producer from Honduras. His addicting tech house masterpieces are perfect for rocking Latin American nightlife.
Iran
Partia Ansari – In This Thang
Partia Ansari is an Iranian indie house and deep house producer. As with the other cultures so far, Ansari's work mixes Middle Eastern musical influences with electronic, and honestly it works perfectly. This style works really well, and it has a very exotic and sensual vibe.
Italy
Marco Carola – Day and Night
Marco Carola is an Italian tech house and techno producer. When you think of Italian house, you probably think of 'We No Speak Americano' by Yolanda Be Cool and Dcup, and you're not too far off the mark. Italian house, when done the classic way, is very deep. It's more about those late night feel-good tracks such as Carola's 'Day and Night' than it is about the big room bangers Italian Americans are used to pumping up in New Jersey. It's better this way, because you proud Italians get to brag that you have the best of both worlds.
Ivory Coast
K8bazo – Pointinini
J'adore! The Ivory Coast know how to bring out the party tracks. While more rooted in traditional party music than house music, the foundations of dance music are there. Where do you think our current dance bangers have evolved from over time? It's good to go back to basics and enjoy the simple things, and these African vibes are too good to pass up.
Japan
Shinichi Osawa – Love Will Guide You
Japanese electro house artist Shinichi Osawa gives us something totally different. We knew Japanese-infused house music would be cool, but you know its value when artists like Porter Robinson and Madeon start turning to the culture for inspiration. The Japanese have very retro and funky house tracks. These are the sounds you'll hear on the streets of Harajuku.
Korea Republic
Freakhouze – World In Our Eyes
South Korean electro house and progressive house producer Freakhouze is all about the big room anthems. Tracks like 'World In Our Eyes' seem like lost siblings to tracks like 'Encoded' by Hardwell, but the Asian musical influences are there. Like its distant cousin Japanese house, Korean house is uptempo and has some funky flavor to it, although more appealing to big room crowds. I don't see why Freakhouze shouldn't become the next big thing.
Mexico
Mirelle Noveron – L.O.V.E. Is Forever
Mirelle Noveron is a Mexican deep house producer whose music takes you on a journey. This Latin flavored style of house is what makes everything south of the border so exciting and alluring.
Netherlands
Vato Gonzalez – Not A Saint
Dutch house is the pinnacle of dance music right now. You've got Hardwell, Tiesto, Fedde Le Grand, W&W, Dyro, Dannic, and many more pioneering the signature Dutch sound. Vato Gonzalez takes Dutch electro into his own hands.
Nigeria
Davido – Dami Duro
Nigerian artist Davido's African influenced dance pop style will freshen up any party.
Portugal
Vibe – Bombay
Forca, Portugal! Alright, so Nani, Pepe, CR7, and the gang may have been eliminated during this tournament's final day of the group stage, but they haven't been eliminated from my heart. It took me hours finding the perfect song to showcase Portuguese house because I wanted to get it just right, and I believe I was successful with Vibe. This techno house sound is really hot in Portuguese clubs right now. You'll see similarities later on with Spain, with the culture of Ibiza really defining the Iberian Peninsula. It's all about lavish cities, exotic beaches, beautiful people, and sexy nights. Lisbon and Ibiza have exciting things to offer for youth seeking to explore nightlife and travel to beautiful nations. If you like Italy (house music included), you will like what the Portuguese and Spanish have to offer as well.
Russia
Arty – Zara
If you frequent EDM Assassin or have general knowledge of dance music, then you probably already know Arty. The phenomenal Russian trance and progressive house producer has become an A-lister and a main stage act. Like the Germans, the Russians don't mess around when it comes to trance. This is the style that gets the clubs heating up in cooler climates.
Spain
Maceo Plex – Can't Leave You
As I mentioned with the Portuguese, the Spanish just love their classic deep house tunes. It's something about that Iberian Peninsula. Those cool Lisbon days and hot Ibiza nights just get club-goers crazy for exotic deep house, and Maceo Plex delivers. It's a good thing these two nations have their musical talent to boost fans' spirits after this World Cup.
Switzerland
Liquid Soul – Devotion
Swiss psy-trance producer Liquid Soul adds to the list of trance-obsessed nations in the Central European region. However, the Swiss put their own twist on the trance we know and love. This style is much more chill than what you would find from its German and Russian cousins and has a slower progression. What it does have in common though is that sense of pulling you in and wishing you could actually be there.
Uruguay
Gabriel Rocha – Rattlesnake
This is where the South American sound comes to life. Gabriel Rocha is able to mesh tech house with traditional sounds of Uruguay to create something really special which I can only imagine ignites the club scene.
United States
Porter Robinson – Unison
Nice guys finish last. We saved the best for last. Started from the bottom now we're here. The jokes write themselves. Anyway, I'm really impressed with how Team USA is doing so far in this year's tournament, and I'm thrilled I finally made it down to the bottom of the list and our home country so that I can go to bed. Now, there have been potential theses written on the explosion of EDM in America in hundreds of articles across the web. The growth of the dance scene in our nation has been exponential. It is truly incredible to think of how far we have come, after years of trailing the rest of the world on this beautiful genre we all love so much. With a wide pool of talent being bred in the US, including Diplo, Skrillex, Kaskade, Dillon Francis, Krewella, Moby, and Steve Aoki among dozens of others, it was incredibly difficult to find just one song that would define American house as a whole the way we know it today.
House music has been prevalent in the underground scene here for decades, but today it's all about the big room electro house bangers and radio-friendly progressive house melodies. We accept some differences, like the deep house sound flooding in from the UK, but Americans like to party hard. We're all about those big room bangers over here, because you know what? Americans like to do it bigger and louder. It's just in our nation's nature. We don't mean to offend anyone.
Anyway, I didn't settle for anything less than perfection. I found an artist and a song that I felt fit perfectly for this situation. American electro house and dubstep artist PORTER ROBINSON has been exploding into the spotlight at an even quicker pace than our big room bass drops. He is undeniably one of the most creative young musicians in our nation, being able to switch up from big room bangers to trance-like melodies to indie-influenced downtempos, as we've seen with his teasers from his upcoming release, Worlds. 'Unison' is one of the most solid efforts in Robinson's eclectic and beautiful body of work. The very nature of the song, that very spirit… it defines America, and it defines our music scene to a T. And guess what? Together, us Italian Americans, Belgian Americans, Portuguese Americans, English Americans, Brazilian Americans, Spanish Americans, French Americans, Swiss Americans, and more… we are all together in this nation in unison. We're in it together. Let's love each other and celebrate our heritage together.
I hope you didn't think that was the end. It wouldn't be American if I signed off without giving you this next track. Dada Life may be from Sweden, but they have catered to Team USA and American ravers with their USA World Cup edition of mega-sized hit 'Born to Rage'. Let's hope karma is on their side and Sweden can qualify for the games in 2018!
Thanks for taking the time out of your day to explore a world of house music. Sometimes we forget how lucky we are to have this music scene and how it really does bring us together from all walks of life. Now, let's celebrate together. USA, Brazil, Spain, Ghana, Portugal, you were born to rage, so come on!
Leave a Reply