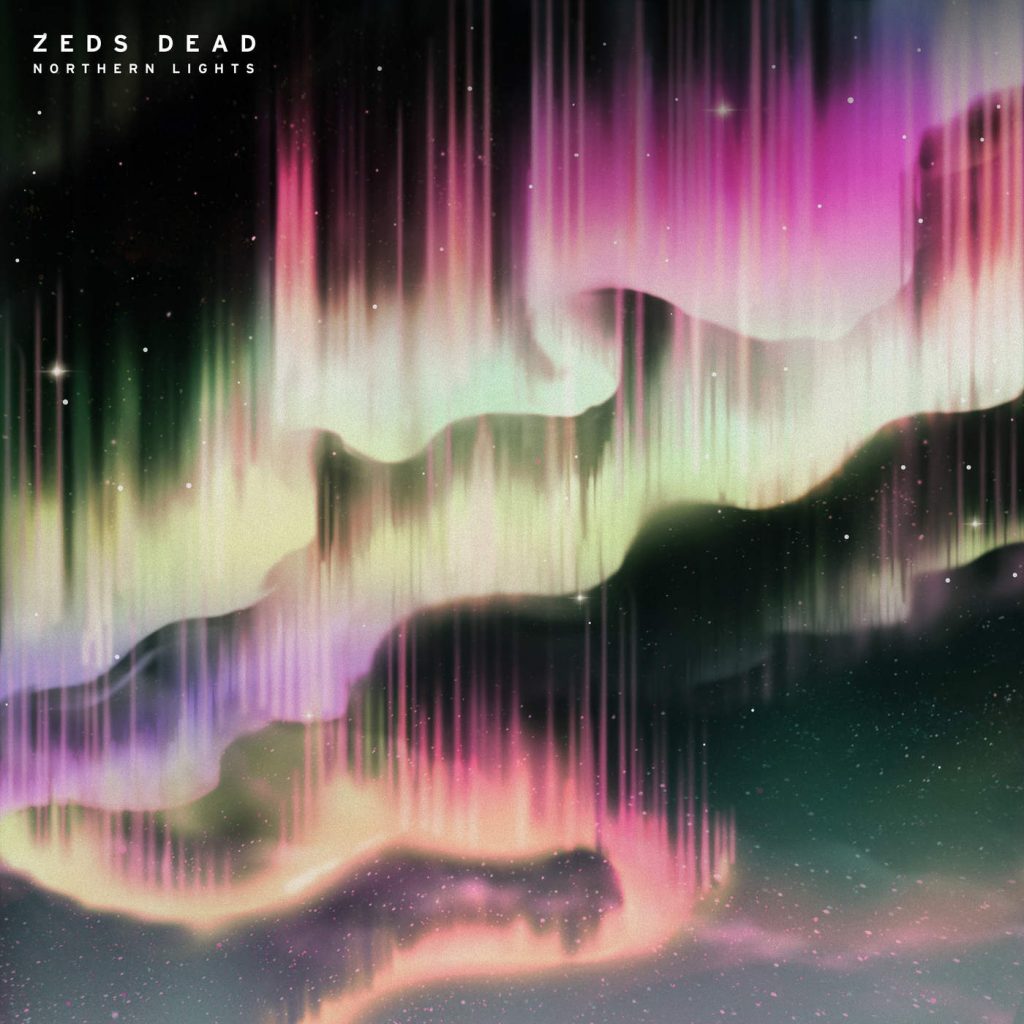 Leading up to the official release of the Zeds Dead debut album, Northern Lights, the duo decided to give fans a sneak peek into the vibes of the entire album. The 4 songs: "Blame", "Frontlines", "Too Young", and "Stardust" provided a unique sound – something completely different, yet equally alluring, from their past heavy dub days. Each track had thoughtful lyrics, some were more mellow, others had more bass. I believe that with the pre-release of those tracks before the album, fans were "warned" about the nature of the album… which is beautiful. All the unique collaborations and vocal features completely create this debut album. Throughout the past 5 years, the boys have grown and changed and so has their sound. This album truly showcases this growth.
The album begins with "Stardust" (featuring Twin Shadow), one of the first singles, and one of my favorite songs on the album. While it's true that bassheads/dub-crazy people are not going to like this song, it's hard to not appreciate the production and artistry. The melodies and guitar riffs are beautiful, seriously I have 0 complaints about this track. The next track is another single, "Blame" (Diplo collab/featuring vocals by Elliphant), which is one of the songs that I was able to hear live from Zeds Dead at Imagine Music Festival in Atlanta. Hearing it for the first time live was absolutely breathtaking.  Not many people had heard it prior so no one really knew what song was being played because it was quite slower than their normal set songs, but when the drop hit, their whole set intensified – and that's how I view the album. This track is clean and Elliphant's vocals fit the vibes of the whole track. Another slower song, "Lights Out" (featuring vocals by Atlas) also has a special sound to it and wompy synths, but don't undermine it.
It's crazy how in one album, they have a pop, dance-y sounding track such as "Too Young" (featuring Rivers Cuomo and Pusha T) and then a contrasting drum and bass track like "Me No Care". There are also melodic house tracks such as "Dimemories" and "Loneliness" that complete the whole tone.
While most songs are showcasing the fact that the duo can play with their sound and do so magnificently, there are still heavy Zeds Dead-sounding tracks such as "DNA" (featuring Jadakiss and Styles P) and "Already Done" (featuring Ghetts). "Already Done" capitalizes on super heavy dub and dark lyrics; this is the only track where I would choose the adjective "filthy" to describe it.
Later in the album, we hear the super transcendent "Where Did That Go" and "This Is Me" featuring vocals from Lips. "This Is Me" might be my second favorite song from the album, the lyrics just speak to me and the vocals flow so effortlessly, despite the heavy bass – which some might find overpowering. To end the album is "Slow Down" featuring Jenna Pemkowski. I could not imagine a more perfect song to end such a beautiful journey through music.
The balance between all the different genre mixing in one album is flawless; not all fans might appreciate this, but those that appreciate the effort it takes to go into producing an album will. Northern Lights has a listening possibility for everyone. This might be one of my favorite albums of the year for this reason alone, I truly appreciate the diverseness of each individual track. Give the entire album a listen on Spotify.
Leave a Reply