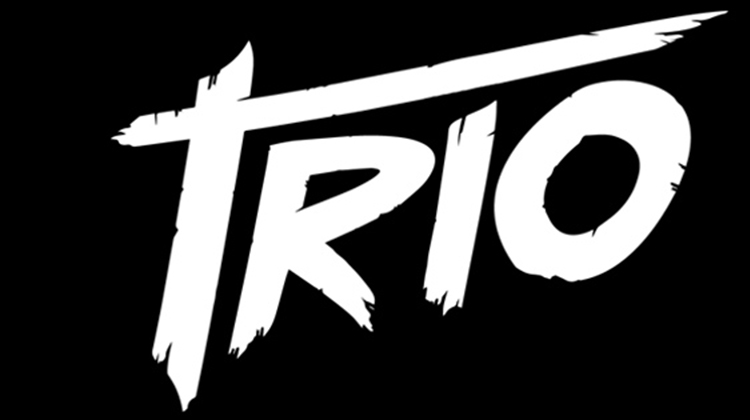 It's been a while since we previously talked to the rising electronic "TRIO". The guys have had a stellar 2014 filled with tracks and club gigs. Following that taste of success, EDM Assassin has followed up on the group to see where they are now and what to expect in the near future. We snagged a first look at some major music news, so read on for details!
Tim: It's so great to talk to you guys again! How have you been? I see you have a fresh new logo and look on social media. I'm really digging it, good for you guys! Are you trying to build a brand?
TRIO: Hey Tim, happy you like the new logo! Over the course of 2014 we were really focused on developing our brand's identity along with our "sound" I guess you can say.
Tim: When we featured you in our artist spotlight back in June, "The Chant" was just being released. Now the track has racked up over 58,000 plays and 2,000 favorites, and it was featured on EDM.com as an exclusive. What was this experience like for you guys?
TRIO: The whole experience that "The Chant" has brought us has really been unreal, we have been in touch with multiple artists we look up to along with agencies across the world. When we were making the record there was so much energy in the room and we're thrilled that the same energy was transferred to our listeners and through our brand as a whole. The Chant hit edm.com charts the first day and rose to #1 by the third day. The record really set us up as a group and as individuals to be mentally ready for what was to come in 2014.
Tim: Another original track came out since our last interview. What went into the making of "Crusade"?
TRIO: "Crusade" was a project that really came from left field, one day we were working on it and the next day we were releasing it. It was really a record we made for ourselves and didn't want to be selfish, especially after all the love we've been receiving from our fans so we had to release it for free.
[soundcloud url="https://api.soundcloud.com/tracks/165800435″ params="color=f4f4f4&auto_play=false&hide_related=false&show_comments=true&show_user=true&show_reposts=false" width="100%" height="166″ iframe="true" /]
Tim: Do you have any plans set in stone for new original releases soon? I think 2015 could bring you guys some great opportunities to grow your fan base.
TRIO: Yes, we are super happy to announce HERE FIRST that we will be releasing our debut EP this spring. Right now we are talking with a few labels and blogs. We're not exactly sure where would be the best home for the EP, as we have been working on it for about 4 months now. We're really looking to have a happy medium between label support and fan accessibility.
Tim: You've already had some great opportunities lately. I see you've been playing Pacha NYC like it's nobody's business! What has it been like performing sets there on the same nights as Sultan + Ned Shepard, Martin Garrix, Jay Hardway and Julian Jordan? Have you had a chance to hang out with any of them or get any insider advice?
TRIO: Yeah, working with the whole Pacha NYC family along with RPM Events and #Dreamteam Productions has really been an amazing experience for us especially to start off the new year. Pacha and RPM have been nothing but overly supportive and #Dreamteam Productions has been everything and more that we could have hoped for in a bookings team. To have this support system especially in your hometown has been amazing for us and a dream come true. People say there's no place like home, well we call Pacha NYC home. Between the crowd response, the sound setup, the productions and the room as a whole I think Pacha NYC will always stay up there on our list of favorite places to perform.
Tim: What direction are you trying to head in next with your music? Which artists out there are you really feeling at the moment?
TRIO: Well that's a tough question we really have established our own sound which we can't wait to show in our EP. Right now were really feeling Tchami's work along with Shiba San and Zeds Dead.
Tim: I checked out a recent edition of your radio show, High Frequency #004. I hear Oliver Heldens, Sunnery James & Ryan Marciano, Duke Dumont, MK and Duck Sauce popping up on there. Are you feeling influenced by some of the deep house and future house trends?
TRIO: Yes we are definitely influenced by the artists we play. We really have to feel and love a record before fitting it into our sets, so you can definitely say we are feeling their vibes!
[soundcloud url="https://api.soundcloud.com/tracks/176520236″ params="color=000000&auto_play=false&hide_related=false&show_comments=true&show_user=true&show_reposts=false" width="100%" height="166″ iframe="true" /]
Tim: Besides the established artists, have you had your eyes on any other up-and-coming acts in the scene? Have you met any cool new artists at shows you've done that are trying to break through the way you have been?
TRIO: Yeah I mean there's so many talented up and comers especially in NY, it's really hard to stay in touch especially right now because we're so focused on our music.
Tim: Is Pacha going to have you back anytime soon? Maybe a festival appearance this year? I understand if details are under wraps!
TRIO: YES YES YES we're happy to say we will be playing with Fedde Le Grand at Pacha NYC Saturday March 21st where we will be showcasing a lot of our new original music along with private remixes we have really been enjoying. As for the festivals we are in the works of solidifying bookings for the summer, so we can't wait to see what the warmer weather brings for us.
Tim: When we spoke in June, you told me the hardest part of your job is to keep going because the industry can chew you up and spit you back out. Since we spoke last, have you had any other struggles trying to break through as artists? What lessons have you learned over the last half year or so?
TRIO: Yeah as we all know there's always new struggles, speed bumps along the road. Right now we have been working together for about 3 years and are blessed to say we are at a really happy and healthy place for TRIO as a whole. I think the hardest part of 2014 was establishing the right team and network to obtain our goals. Now we have a great mix between friends and coworkers (on the team end of things) and it really allows us to move forward and have a steady pace and focus on records. It's so hard trying to establish yourself in this industry especially as a producer where you have to focus on branding, social networking, show promotions, merchandising, public relations and still have time to MAKE MUSIC. To us the music end is most important so we are really happy that everyone we have in place is amazing at what they do and are some of the hardest working people we know.
Tim: Thank you for always supporting EDM Assassin. We love you guys, and you're welcome back here anytime you like! Until then, do you have any final message you want to leave the readers with? Is there anything you want to tell your fans or say about New York City and the dance music scene at the moment?
TRIO: Ahh! Thanks guys we love you too and can't wait to sit down together one day soon.. as for NYC's dance music scene right now it's weird I guess you have so many people trying to do the same thing and not really getting anywhere. I think NYC is such a fast paced town that a lot of people forget where they're from… NYC a place born off diversity!!! The city has influenced some of the greatest musicians and successful people as a whole. When you can embrace that those are your roots it really makes you unstoppable. We love you guys and thank you as always for your time and support in us because without people like you we wouldn't be where we are. We're really grateful for the loyal fans we have now and look forward to all the future TRIO family so we thank you in advance and we can't wait to get this music out to you!
[soundcloud url="https://api.soundcloud.com/tracks/184319159″ params="color=000000&auto_play=false&hide_related=false&show_comments=true&show_user=true&show_reposts=false" width="100%" height="166″ iframe="true" /]
Leave a Reply