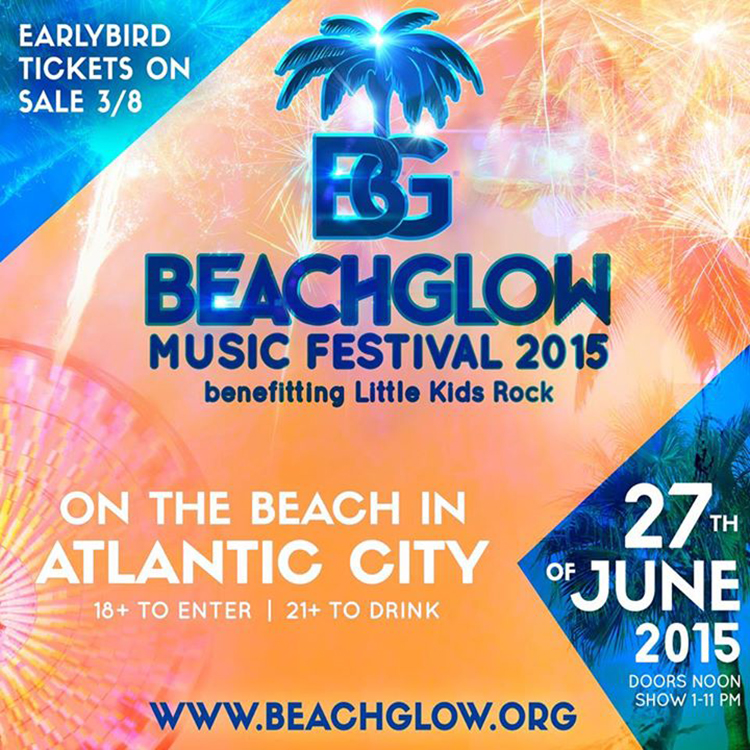 It has been a while since we have heard anything from BeachGlow. Last we heard, there was a standoff between Wildwood Businesses and BeachGlow. Unfortunately, the businesses in Wildwood, New Jersey won and now BeachGlow has to change. It is sad because BeachGlow was trying to include the community and enhance tourism through EDM. Although, the people behind Beachglow are very strong and determined. When one door shuts, another one opens. They are still going to provide 10 acts all to benefit Little Kids Rock. There is still going to be a festival. There will not be any lapse in years because they're dedicated to the event and the charity they provide.
The City of Wildwood withdrew its approval of their bid for this event after our plans were built and alumni presale tickets were sold. Atlantic City said YES! Atlantic City has welcomed the concert with open arms. Atlantic City and their business are huge fans of the beach concerts. Electric Adventure is also heading to Atlantic City this year as well. They're open to our genre of music especially with all the nightclubs.
Here is what information is provided so far:
BeachGlow will be taking place on June 27th, 2015 from 1pm to 11pm.
While the event was 17+, due to the restrictions by Atlantic City, you must be 18 or older to attend.
Transportation, parking, and lodging is super easy.
Tickets will be refunded for the Wildwood event.
Tickets go on sale for alumni for March 8th.
December's contest winners will be mailed tickets to the Atlantic City festival closer to the event.
We welcome BeachGlow to our own backyard. I know that this will be a much bigger and better event without the silly limitations from Wildwood and their businesses.
Here is the official press release if you
Leave a Reply