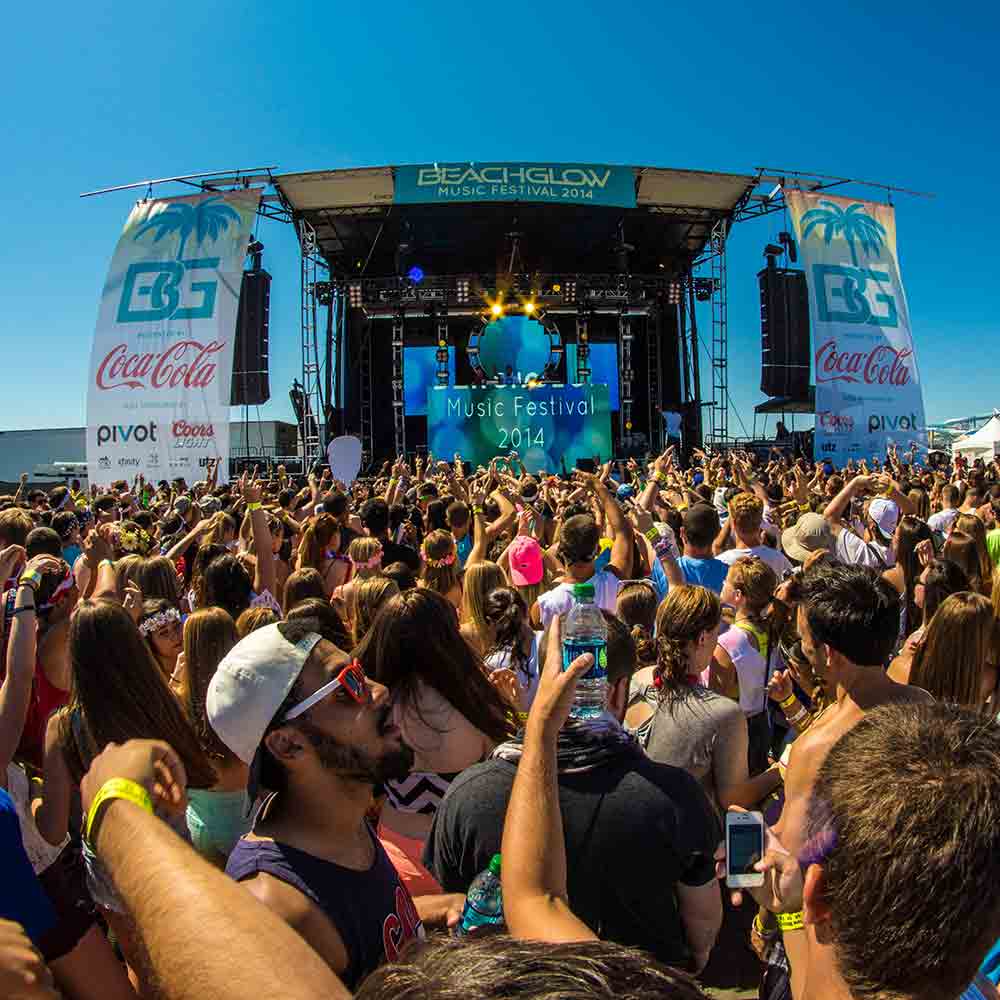 To whom this may concern,
Hello. My name is Grant and I am writing an open letter in regard to the article I read in the Press of Atlantic City about the attempts to prevent BeachGlow from returning to Wildwood, New Jersey. The article cited "drunken and unruly behavior and foul language" as the reason to prevent the festival's return. I want to address multiple points of the articles as well as provide my insight. Last year, I found out about BeachGlow by sheer luck, but I quickly wanted to get involved. Now, I (nor anyone involved with EDM Assassin) are directly involved, but we do promote the festival in any way we can. While we weren't able to attend last year, we are making it a point to attend this year. Unfortunately, it seems as if the businesses don't necessarily agree with what BeachGlow is trying to do.
First off, I want to say I am a resident of New Jersey, and I live near Atlantic City on the shore. I've lived here all my life and have spent each and every summer here, while also visiting cities and beaches from Cape May to Long Beach Island. I've grown up going to New Jersey schools and I even went to school with one of the member's of the Morey family. Like many, I too was affected by the hurricanes, especially Hurricane Sandy. I've watched Atlantic City take hits due to the economy. I've also seen Ocean City and Wildwood flourish as they improve their cities respectively. Last year, I attended the free beach concerts Atlantic City held and was impressed by what they've done to increase tourism. I know that everyone wants to improve their city, and I really hope so because I don't want to see my hometown hurt. The people and the places here are amazing. I remember when MTV brought the Jersey Shore and the terrible reputation that followed because of the show, despite them being (as us locals like to say) shoobies. I mention all of this because I want to show that I am not just some writer doing this to support a festival, but rather I'm a local as well as an electronic dance music aficionado supporting a great cause.
Last year, I came across BeachGlow and I was thoroughly impressed with the ideals behind the festival. For those who don't know, those involved in electronic dance music like to live their life by "P.L.U.R." which stands for Peace, Love, Unity, and Respect. These are the ideals we try to live by and exactly what BeachGlow emulates. What is great about this genre is that there is something for everyone and it encourages people to pass good vibes and to enjoy the music. This lines up exactly with what BeachGlow is about as they're sponsoring these festivals to raise money for charity as well as provide awareness. This is their mission statement:
BeachGlow believes in the power of contemporary music to raise awareness among young adults about societal issues and causes. BeachGlow is a non-profit, all-volunteer organization. We create and produce cutting-edge music festivals that showcase and raise funds for worthwhile charities, especially those that benefit today's youth. Beachglow's goal is to educate, motivate, and inspire a generation to become a force for significant social change.
We were fortunate that we had the opportunity to interview Dane and Gerard Kunkel regarding BeachGlow because we wanted to better understand their goals for the festival. They discussed the festival and how our social awareness, along with our overwhelming need to help out, makes this event so successful. Feel free to check out the interview below. It starts at 38:56.
[soundcloud url="https://api.soundcloud.com/tracks/184856561″ params="color=ff5500&auto_play=false&hide_related=false&show_comments=true&show_user=true&show_reposts=false" width="100%" height="166″ iframe="true" /]
According to the Press of Atlantic City article, there were some issues that Will Morey was joined by numerous business groups including the Greater Wildwood Tourism Improvement and Development Authority and the Greater Wildwood Chamber of Commerce addressed in a letter to the commission. They were upset that there were some drunken and unruly behavior and foul language.  There are some issues I find with this.
As every kid in the tri-state area knows, there is a time each year known as senior week. It extends for about six weeks because of all the different release dates of universities. Wildwood (along with other cities along the Jersey Shore) is the premiere destinations for these events. This is a time when kids pile into houses and perform illegal activities, including drug and alcohol use. Many compare this to a right of passage for the students. The businesses on the boardwalk promote this; there are many t-shirt shops and such that have designs relating to being intoxicated, doing drugs, or senior week in general. It seems as if everyone turns a blind eye to what goes on. There are instances of up to 40 people being arrested in one house alone. I've witnessed such events and I don't doubt that these places are doing their part to card each and every individual. According to the Press of AC, "The city's fire and police chiefs told the commission there were no unusual numbers of arrests or emergency medical calls the day of last year's concert." Clearly, this can't be much of a difference than any other event that has taken part in Wildwood. This isn't to justify the event, but this can't be used as a reason if there wasn't anything out of the ordinary.
Truthfully, this seems more like ageism and a disagreement with the music genre. I understand there is a lot of hatred towards electronic dance music as it apparently promotes drug use, but this doesn't justify banning the festival. Many of the artists publicly shame the use of narcotics, as they, like those who love the scene, understand that narcotics do not enhance nor correlate directly with the genre. Drug use in general has followed its way through art as a whole regardless of its outlet. Name it – Rock 'n' Roll, Jazz, Blues, Funk, even classical. It was never about the music either, as painters, writers, etcetera are known to have some sort of narcotic "dirty laundry." Blaming people on their age is ridiculous. One can recall that firefighters all gathered in Wildwood and created national news with their obscene and sexist sign that was picked up by the New York Post and Gawker.
BeachGlow has a good foundation that they are built upon. Last year, they raised $40,000 for the American Red Cross for Hurricane Sandy relief. This year, they are donating their proceeds to Little Kids Rock. They help impoverished kids by donating instruments and teaching them the art of music. This doesn't sound like a festival intending to hurt anyone mentally or physically, but rather to promote good nature and humanity. BeachGlow is going as far as censoring artists to keep foul language off the stage.
The last issue I found was the fact that Will Morey repeated his concerns about families leaving the beach and walking away from the boardwalk to get out of earshot of the concert. Morey and other storeowners are concerned by the island's image and are worried that people would be driven away. I apologize as I do not see the issue. The realistic idea is that this music, like all music, doesn't settle well with everyone. That is understandable and I will not pretend that everyone loves the music the same way as I do. That being said, I find it a bit extreme that a festival that appears one (and their intention of two to three days) will taint an island's overall image. On the contrary, it will appeal to many more people as it provides a festival in New Jersey that compares to the others that happen elsewhere. I hate to sound territorial, but there is plenty more beach for families to go to if they don't enjoy the festival for the day. Atlantic City had great success with the same idea. Wildwood should do the same!
BeachGlow and the Wildwood Board of Commissioners have the city's best intentions in mind. The impact it will have on the city is much greater than they realize. Electric Daisy Carnival had around 400,000 attendees in 2014. According to Billboard, that brought in $322.3 million dollars to Las Vegas. While BeachGlow is significantly smaller, a similar economic impact will easily happen for all the places on the boardwalk and the hotels in the area. I urge the city and the businesses to find a compromise. There is no reason why there should be ultimatums. It is a win-win-win for everyone! BeachGlow wins. The charities that BeachGlow supports wins, and the city wins.
Leave a Reply