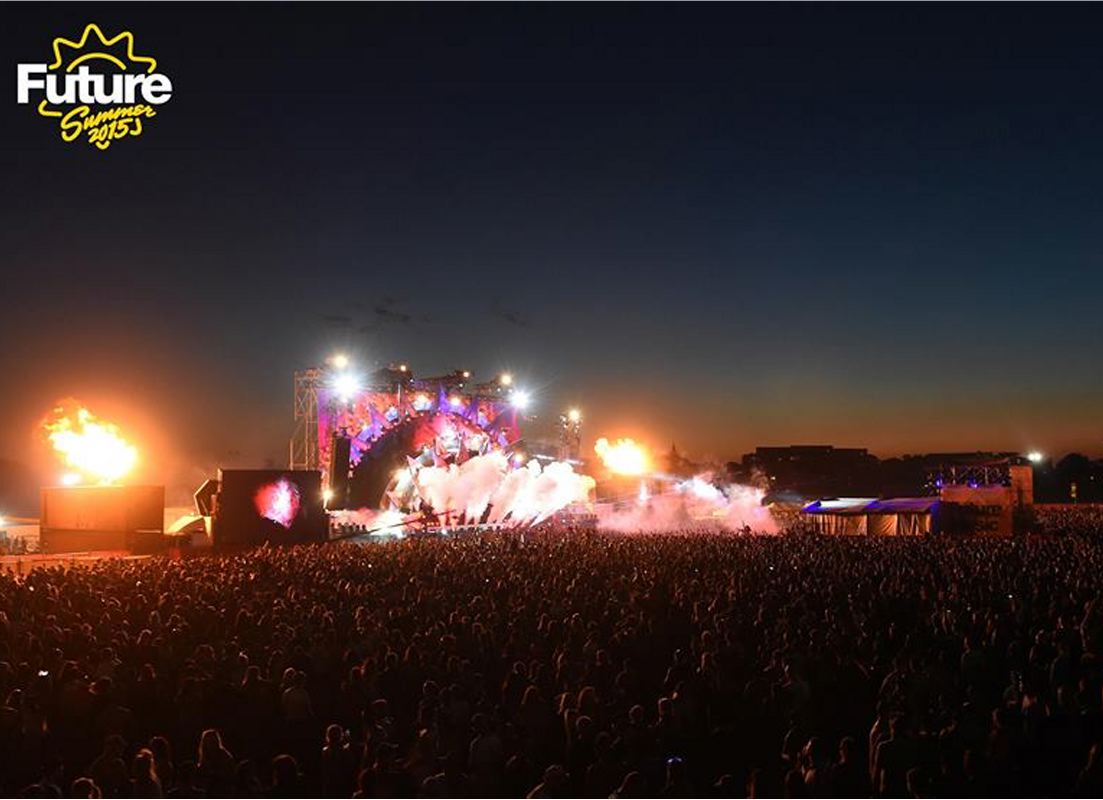 Future Music Festival is the biggest one-day festival in Australia, and I had the pleasure of attending the Perth edition on the 1st of March. This was the first time I had been to the festival as I was underage for the 2014 event, but had a good idea of what to expect from when I went to Listen Out and Stereosonic late last year (the other two 18+ touring EDM festivals in Australia). I had been psyched for the festival for months after managing to unknowingly buy a ticket half-price. The ticket was originally for a Knife Party/ShockOne show on Boxing Day 2014, however after Knife Party was added to the FMF lineup the concert was cancelled and all tickets to that show were converted to FMF tickets, with the option of a refund. Credit to Frontier Touring for taking this financially risky option, because not only did it attract diehard fans to the concert, it ended up creating a large amount of publicity for the festival off the back of the early release of Knife Party's album Abandon Ship.
I'm not going to lie, I originally didn't buy a ticket for FMF when they were first released because the original lineup was nowhere near the standards that most punters (and myself) hold for festivals this large. After more than 30 superstar DJs at Stereosonic, there were not nearly as many in the first lineup release for FMF, even taking into account that it's a one-day festival instead of two. However the extra additions took it well over the line: Knife Party, Darude, Timmy Trumpet and Aussie hip-hop legends Hilltop Hoods. With Drake and 2Chainz performing as well, this ensured diversity for the festival and created an appeal to all of the rap lovers out there.
Before I review the festival itself, I want to go through the performances that I saw, because it would be irresponsible of me to not pass on some of the experiences I had and songs that I heard.
Yellow Claw
I got into the festival with about 10 minutes left to go in Yellow Claw's set, but the Dutch trio did not disappoint in the short time that I saw them. The theme for the end of the set at least was to build up to a hardstyle drop, then from there drop into half-time trap. This was new to me as I don't usually listen to hardstyle but I absolutely loved it, and the rest of the crowd did too. It was packed tight, however most people were there for the next act:
Darude
Before I outline his performance, I need to make clear the extent to which Darude has regained his popularity in Australia right now. It's commonly accepted that his 1999 smash Sandstorm is one of the greatest dance songs of all time, but more recently it has been unofficially appointed as the theme song for ecstasy (or 'pingas'), along with the stereotype of speed dealer sunglasses, bucket hats and singlets on social media. Lots of people in the target age group of Future Music Festival love this meme of sorts whether they take illicit drugs or not, and Sandstorm is the song to go with that meme. After a Facebook event made in an effort to raise money to bring him to Australia had tens of thousands of people support it, FMF chipped in the rest of the money and logistics needed to bring him down under. His set was mainly Trance, but even though Trance can get boring on occasion his set was very well timed and the song selection was very good. Darude is a better DJ than I thought he'd be – his set was very interesting, mostly due to the hype for when he would drop Sandstorm. He teased snippets of sounds from the song throughout the set, and this only added to the hype as he gradually built up to the majestic drop that everyone was waiting for at the very end of the set. I managed to video it and even though the quality isn't that good, you can still live it yourself.
[youtube http://www.youtube.com/watch?v=dFAtGOaj5wo&w=420&h=315]
Unfortunately there was a mass exodus once he finished, because the next producer also played a very good set.
Tchami
The priest of EDM and future house pioneer was in good touch on the decks as he threw down a deep house set for those who remained after Darude. His set was mostly comprised of popular deep house bangers such as Bonkers, Feel The Volume and Promesses mixed in with less well-known songs. He also managed to fit the occasional trap song in, and when he played No Type the crowd went nuts. There were no special experiences in this set, it was just very good all round even though he didn't interact with the crowd at all.
Carnage
Due to weather issues in Sydney, Carnage was in a race against time to get from the airport to his set and ended up being 15 minutes late. In those 15 minutes an unknown interim DJ played a few popular generic EDM songs, but eventually Carnage ran on stage to everyone's delight. He dropped straight into some heavy trap. Tell Me was one of the first memorable songs that he played, and it went hard. At times he played a similar tactic to Yellow Claw and built up to a hardstyle drop, then again dropped into half time trap. He managed to use this formula without making it boring, and changed the style frequently enough to keep the crowd interested. He even managed to play Timmy Trumpet and Chardy's brand new single Hipsta, and this was for me at least the highlight of his set.
Nero
Hoo boy, have I been looking forward to writing this part. Nero blew the dubstep scene apart in 2011 with their debut album Welcome Reality, but have only released two stand-alone songs in the last two years. They have been teasing a second album painfully slowly in that time, but before their set the only preview of their sophomore LP that I had heard was their single Satisfy, released in May 2014. I went into their set expecting an earful of bass, some great songs and hopefully one or two unreleased songs. Well, the set blew me away and went above and beyond my high expectations. They started off with Guilt. Alana Watson was on live vocals, and her voice was perfect. I'd been wondering for so long if her voice had been manipulated to get it perfectly high-pitched, but it's legitimate. I was expecting an earful of bass but there was so much that it almost blew my brains out, and I loved every second of it. Crush On You went off, Doomsday went off, Promises really went off. In between, they also played a few songs from their new album, and I can confirm that it will be just as mind-blowing, if not even more insane, than Welcome Reality.
Trap.
Nero.
Trap.
I wasn't expecting them to dabble in that genre, but it was absolute quality. Alana is on vocals, and it's already better than most of the stuff you'll hear in the scene already. The next album will also be less dubstep-oriented and have more BPMs between 110 and 128 – they played a song sort of like Scorpions, but at a slightly different pace that was still really, really good. Nero also know how to finish a set. They played Into The Past, which confirmed again that Alana is an extremely talented vocalist. She hit the highest notes in the song perfectly. Satisfy went off, and just as everyone thought they were finishing early they dropped the biggest surprise of the set: an unreleased duet called Leave It All Behind. If that song doesn't do better commercially than Promises and Guilt I will be really surprised. It's radio material that still stays true to Nero's style and standards, and is loaded with bass. I honestly can't wait for it to come out because it should hit the top 10 – it's that good. The drop is a new level of catchy, as are the vocals. The final, final song was Me and You, and the audience sang along with Alana as the trio finished off a memorable set and my personal favourite of the night. They also left an easter egg for the audience, with the words "Take Me Higher" being said in a slightly robotic voice after the ending sound effects had finished. It could be the title of their new album, or their next single, or something completely different. I don't know. What I do know is that we have been waiting a long time for more material and when it does come, which should be soon, every Nero fan will be more than satisfied.
Die Antwoord
The infamous South African Zef crew were up next. The crowd screamed with delight as their setup was brought on stage, with a crudely drawn picture of Maisy Mouse along with the words "Fuk You". Everyone was amped for the performance, but Die Antwoord brought an unreal amount of energy to the set. When they started, DJ Hi-Tek came out first and dropped DJ Hi-Tek Rulez. The entire crowd yelled "DJ Hi-Tek will fok you in the ass" like it was meaningless. Yo-Landi came out next and dropped a few verses as the crowd went insane. Ninja finally came out and the crowd went even more psycho – everyone was pushing and shoving, and when it couldn't get any better Ninja stage dived right next to where I was raving. I managed to touch his pants as the crowd threw him over the front fence so that he could spit a few lines too.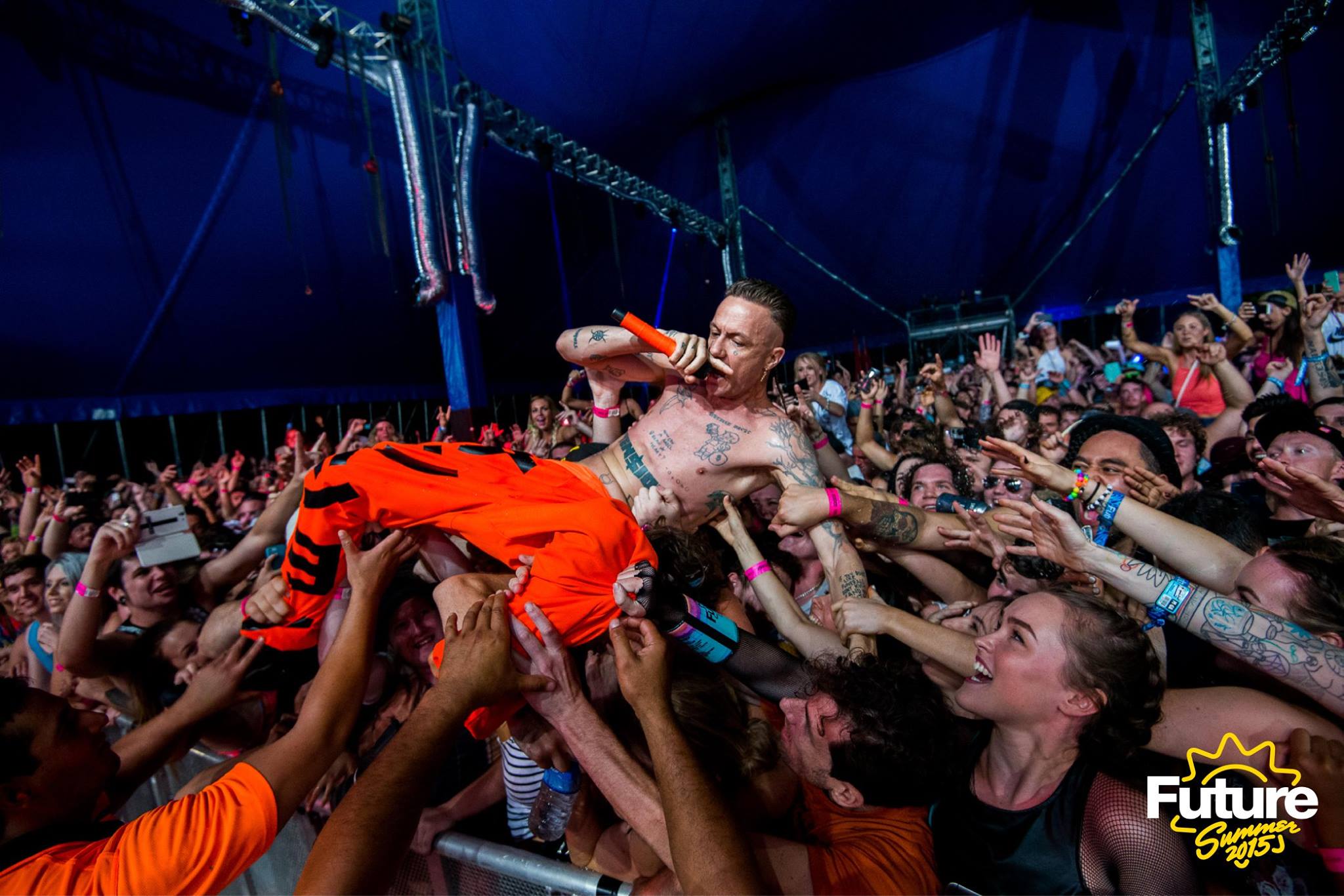 Unfortunately I had to leave after this to see one of my favourite acts of all time, but I have it on good authority that the entire set was just as nuts as the beginning, and the more EDM-oriented singles in I Fink U Freeky and Pitbull Terrier were bonkers. I managed to see their last song, Enter The Ninja, which was well received by the crowd. Even though they can be a bit crude and have a bit of a bad rap amongst traditional music lovers, Die Antwoord is a class act and knows how to perform a killer live set.
Knife Party
I was planning on seeing the entire set, however the weather issues caused their set to be pushed forward, so I only got to see the last 20 minutes. I wasn't pleased with that situation. Nonetheless Rob and Gareth showed that they are two of the best DJs out there as they dropped song after song, mixed in with VIPs, remixes and edits. They even managed to fit Jack Ü's Jungle Bae in what I saw of their set. Gareth interacted well with the crowd, and it was a fantastic set even though it was raining and earlier than it should have been. Internet Friends VIP and then another edit went off, as well as Destroy Them With Lazers and Boss Mode. They finished with Bonfire, dropping a remix and then a Drum and Bass edit before the final original drop made everyone go insane. They are definitely worth seeing if you can, and I'd still be saying that if I saw the entire set.
The Prodigy
I missed out on Martin Garrix and Avicii to see these legends, but by the time their set started I was really pissed off. They took an entire hour to set up, when they'd scheduled half an hour to do so. I could have seen whoever was on the main stage, but instead I had to endure an hour in a restless and tightly-packed crowd when I could have been seeing Knife Party if the weather had been nice to me. The reason it took so long for them to set up was because Liam Howlett was playing everything off what looked like classic analogue gear, with live drums and bass too. Howlett's setup was very in-depth and there seemed to be a few issues with cable connections. They mostly played older music even though it had been hyped that they would mostly play songs from their new album – I'd guess that they played 3 unreleased songs. My information on their new album is pretty simple – from what I heard it will be just like the three singles they've released already. Then again, there's still half an album that I didn't hear and when you've got Flux Pavilion as a collaborator it might not all be the same stuff. Nonetheless, their performance was very energetic and Nasty, Breathe, Wild Frontier, Invaders Must Die, Smack My Bitch Up, Poison and Omen were all really good. They opted to play each song individually instead of mixing between them, which was the best way to go as it gave the audience a slight break from going really hard to classic after classic. After they finished the audience demanded an encore and they came back out to play Take Me To The Hospital. Even though it was an impressive performance that went down well I felt a bit let down by the time it took to set up, a few irresponsible people in the crowd pushing and shoving to create the largest circle possible and the fact that they didn't play Firestarter, their most famous song.
I am still very happy that I saw all of the artists that I chose to see, and even though I heard that Afrojack, Martin Garrix and Avicii played really good sets without me I still had a great day.
The festival overall was above average, but could have been done better in some aspects. The vibe was great and there was no line to get in even though there were many thousands of people there. I was really pleased with the security and services that were offered there – the food, drinks and toilets were all in the right places and the only issue in that it was a 3-5 minute walk between the main stage and the other stages wasn't that big a deal – you'll always get that at festivals held in large complexes like HBF Arena. Each stage setup was very good too – there were minimal sound clashes and there was enough room for large crowds and for each artist to perform their set. The location was good too – even though it was in the outer part of the city it was very easy to get to and from the event, with the extra free trains making life easier for everyone. As I have already said, the lineup was also very good for a one-day festival in the most isolated major city on Earth, in one of the most isolated Western countries on Earth, that would take a lot of money and logistical planning to manage.
My only issue is the lack of communication that ruined both Knife Party and The Prodigy's sets. I understand that if it's hailing in Sydney and planes can't take off that's unfortunate and you can't do anything about it, however telling the audience that Carnage will be late or sets in other places have been switched around would be the best thing to do in that situation so that everyone can re-plan. Telling the audience that The Prodigy would be on around a certain time would have been good too. The crowd at Darude, Die Antwoord and The Prodigy was very tightly packed and got a bit rowdy, however I can't blame the festival for that as you'd be naïve to think that that wouldn't happen at a Die Antwoord or The Prodigy performance, and everyone wanted to see Darude play Sandstorm.
I would highly recommend going to Future Music Festival if you like the lineup as it's a well-run festival that provided one of the best days out that I've had in my short adulthood. Not enough communication with the crowd when logistics went wrong was my only issue, but otherwise it was well handled. Given a good lineup, you'll see me paying full price for a ticket next year.
Photo credit: Future Music Festival Facebook Page
Leave a Reply