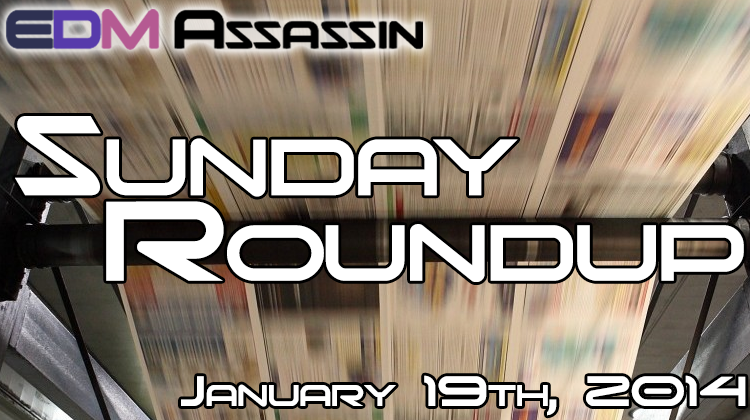 I am currently somewhere in Mexico so I apologize if I missed something because this was written ahead of time. This week seems like it was full of announcements. All of them are awesome announcements (for the most part). There is always something to announce and usually I try to cover the majority of them. Here are some headlines that I missed but you can finally catch them here. Once again, if something sparks your interest. Let me know in the comments and I'll go further on another post.
Outkast Announce Tour of 40 Festivals
They first announced they were reuniting for Coachella, but Coachella isn't the only festival they're playing at. Such festivals they are playing at are The Governor's Ball, Firefly, Coachella, and more. Most aren't announced yet, but they will be soon enough!
Ministry of Sound is Celebrating with Concerts
As I mentioned last Sunday, the Ministry of Sound is remaining open! To celebrate, on January 24th, Super8 & Tab, Jaytech, Boom Jinx and Prok & Fitch are all performing. On January 25th, Danny Avila, Third Party Patrick Hagenaar are performing. Each night should be insane and a ton of fun. They just renovated a majority of areas so everything is going to go smoothly and awesomely.
Martin Garrix Announces We Are Animals North American Tour
Martin Garrix decided he is going to do a small North American tour before festival season arrives. He will be traveling around the United States and Canada performing what is expected to be amazing sets. Jay Hardway will be joining him throughout this tour. Here is the list of dates, venues, and cities you can go to.
January 31st, 2014 – Pacha in New York City
February 1st, 2014 – The Mid in Chicago
February 2nd, 2014 – Hakkasan in Las Vegas
February 5th, 2014 – Royale in Boston
February 7th, 2014 – Uniun in Toronto
February 8th, 2014 – LIV in Miami
February 9th, 2014 – HQ Nightclub in Atlantic City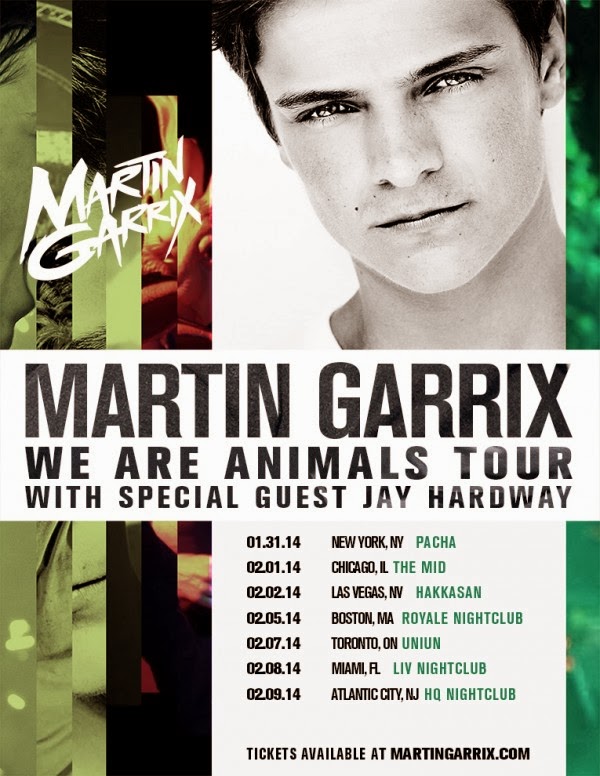 Deadmau5 Finally Finishes His Album
There isn't much to say here as there isn't many details. What we do know is that the album is two discs and features 2 continuous mixes and 25 songs.
in other news… i finished my album today. 2 discs. 2 continuous mixes. 25 tracks. and something im proud of.

— dead mow cinco (@deadmau5) January 8, 2014
Steve Aoki Breaks 2 World Records
On the random records that I expect to be broken, these do not surprise me one bit. Steve is known for his crazy stage antics that make his crowd go insane. The records he broke are the following:
1. Longest crowd cheer.
2. Most amount of glow sticks for 30 seconds.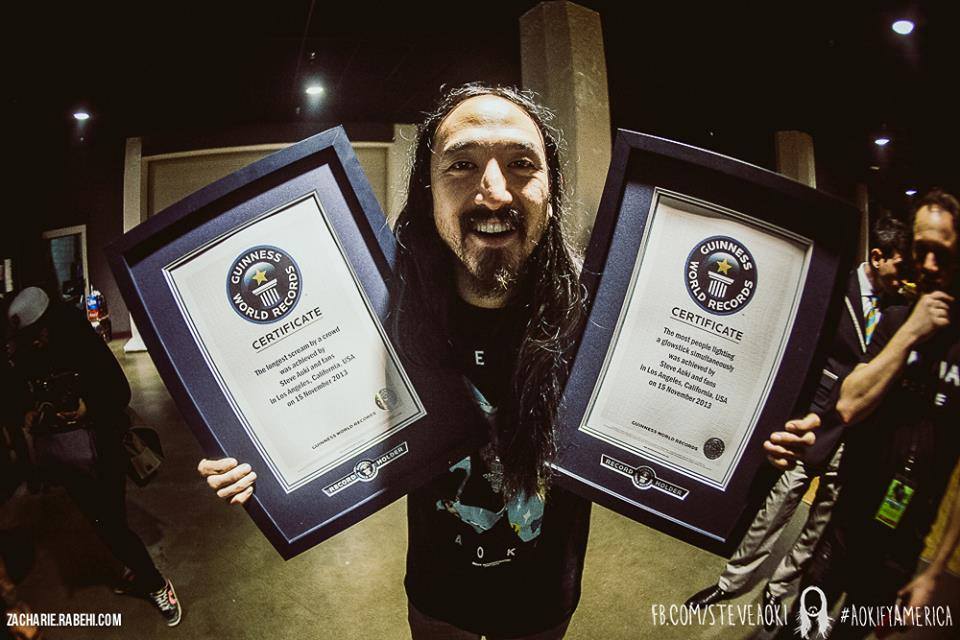 Coachella Lineup Announced and Sells Out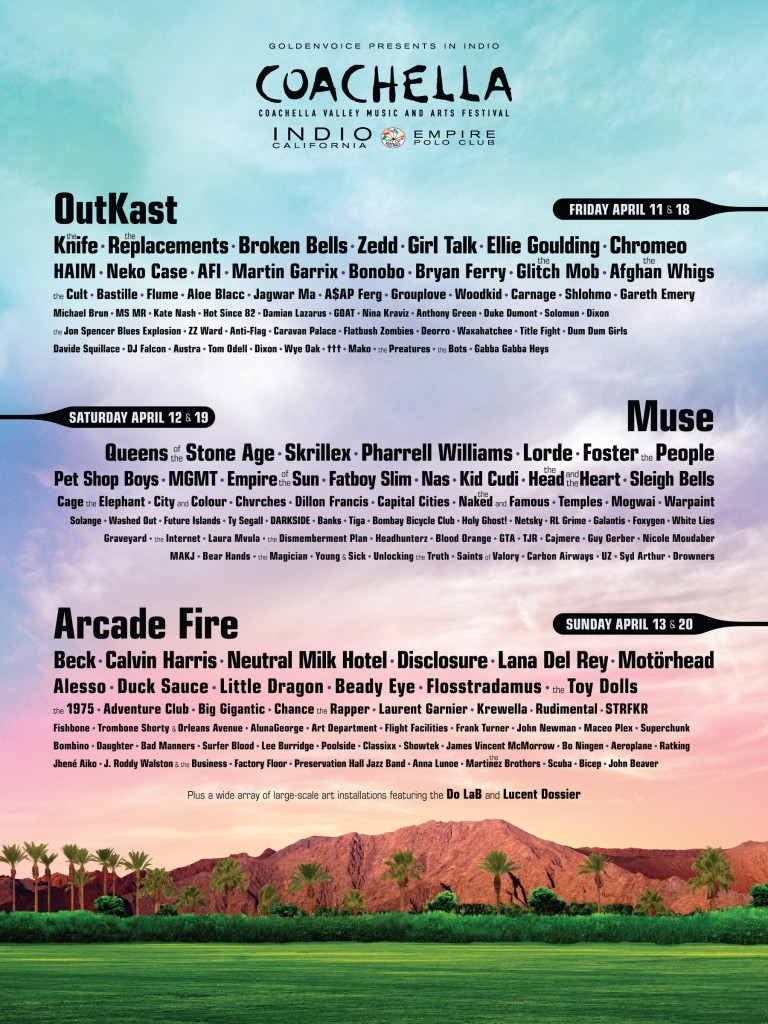 Within 3 hours of the announcement of Coachella's lineup, both weekends, April 11th to 13th and April 18th to 20th both sold out. 2 hours and 37 minutes to be exact. Who can blame them when their lineup is absolutely amazing. Here is the list of just EDM related acts performing: UZ, Martin Garrix, Nicole Moudaber, Rudimental, Shlohmo, Disclosure, Nina Kraviz, Solomun, Calvin Harris, TJR, Hot Since 82, Alesso, Flosstradamus, Krewella, Zedd, Netsky, Gareth Emery, GTA, Chromeo, Carnage, Scuba, MAKJ, Duck Sauce, Maceo Plex, Skrillex, DJ Falcon, Bonobo, Duke Dumont, RL Grime, Laurent Garnier, Art Department, Deorro, Flume, Dillon Francis, Cajmere, Glitch Mob, Fatboy Slim, and AlunaGeorge.
SFX Entertainment Signs Deal with Anheuser-Busch InBev
This deal could be worth about $25 million to $35 million dollars. I guess we can expect all SFX related concerts/festivals (which is many) to be primarily Budweiser products. That doesn't upset me too much, but expect to see a lot more alcohol related products.
3LAU Teams with Electric Family to Raise Money for Pencils of Promise
Kandi is a big part of the rave culture. Knowing this, 3LAU teamed up with Electric Family to release 2,000 to purchase in hopes of making about $25,000. This money will in turn go to Pencils of Promise who build schools for underprivileged children around the world. $25,000 is just enough to build a school.

Swedish House Mafia to Premiere Film at SXSW
It has been almost a year since their last performance when they announced they were done forever. Although, being done doesn't mean they don't have to disappear. They have a film that documents their lives on the road and in the studio titled Leave The World Behind. It shows the ups and downs of being Swedish House Mafia. First sighting of the trailer was in October 2013 and it is official that the film will premiere at the SXSW Film Festival.

Armin van Buuren sets record for most albums on Billboard's Dance/Electronic chart
Armin is by far one of the best DJ's to grace us with his music. From A State of Trance to all his live performances, he continually steps up his game and impress us all. Just recently, I talked about A State of Trance Year Mix 2013. That album made Billboard's Dance/Electronic chart. With that, Armin Van Buuren has surpassed Louie DeVito for artist with the most entries on Billboard's 'Dance/Electronic Albums' charts with 20 listed albums. Big congrats to Armin.
Armin Van Buuren to Play Ultra Music Festival Under Alias
Speaking of Armin Van Buuren, it was just recently announced that he is going to play Ultra Music Festival under an alias. At Ultra this year, A State of Trance 650 is going to take place which is another monumentus number for him and all of the Trance Family. According to Ultra, he is going to play under the alias GAIA where he is going to play nothing but straight trance.
Armin van Buuren is a man that truly needs no introduction… He has been named DJ Mag's #1 DJ an astounding 5 times, headlined Ultra Music Festival, and rocked our international events around the world. His unwavering devotion to Trance, and his crowd engaging, high-energy sets, have garnered him an incredibly loyal fan base that has grown steadily for well over a decade. We are proud to announce that Armin van Buuren will be returning to Ultra, with performances on the Main Stage, and in the Mega Structure leading A State Of Trance 650. This year, the#TranceFamily will get to experience something extra special, as the Armada label boss prepares to play under the moniker GAIA! Under this alias, AVB will be taking a purist's approach, as he gears up to deliver a set chocked full of nothing but Trance. From harder-edged tracks, to the most uplifting of sounds, this performance will see the complete arsenal of powerful Trance tracks that have won over the hearts of#Ultranauts across the globe. Be sure not to miss this Ultra Music Festival debut, and experience GAIA during#ASOT650 at #Ultra2014!
Kirill Was Here Was Featured By Recess
Part of the EDM world is the clubbing culture. The bottle service, alcohol, half naked girls, totally naked girls, booze, and partying. There is no denying that. Some can argue that they aren't true fans while others can say that they are in it for the fun. With that said, Recess did an excellent exposé on Kirill Was Here and the brand he represents. Love him or hate him, he is part of the culture and continuously makes others want to do what he does and step up the their clubbing. It is amazing how he went from graphic designer/club goer, to photographer, to being a brand in himself.
Fake Maarten Vorwerk's "Ghost Production Contract" with DVBBS & Borgeous Appears Online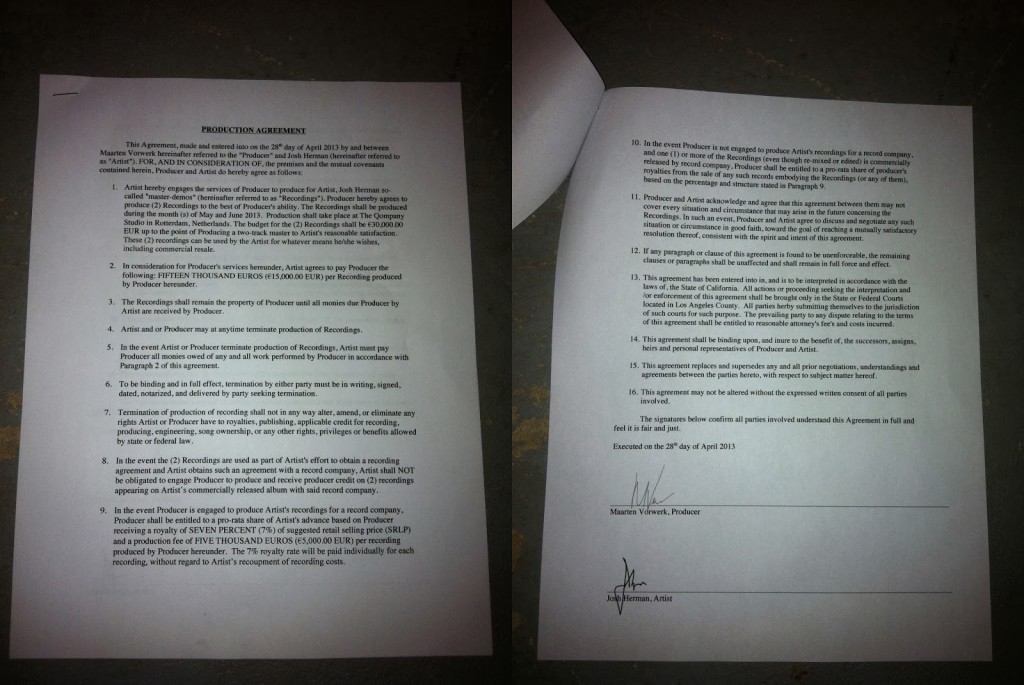 Apparently this started going viral. It is a fake contract between Maarten Vorwerk and DVBBS & Borgeous. Ghost production isn't unheard of, but it is quite frowned upon. That said, it is fake according to Maarten.
@electrokill I sorry to inform you but that contract is FAKE. Just someones twisted idea of having fun. That's not my signature.

— Maarten Vorwerk (@MaartenVorwerk) January 18, 2014
@electrokill you should really check your sources if you want to be a proper media outlet.

— Maarten Vorwerk (@MaartenVorwerk) January 18, 2014
@raverrafting @DVBBS @BorgeousMusic It's a fake contract. Just someones twisted idea of having a laugh! #tabloidstuff

— Maarten Vorwerk (@MaartenVorwerk) January 18, 2014
That is it for the Sunday Roundup. Hope you enjoyed these headlines and all these amazing announcements. Feel free to comment about anything and tell us what you think!
Leave a Reply