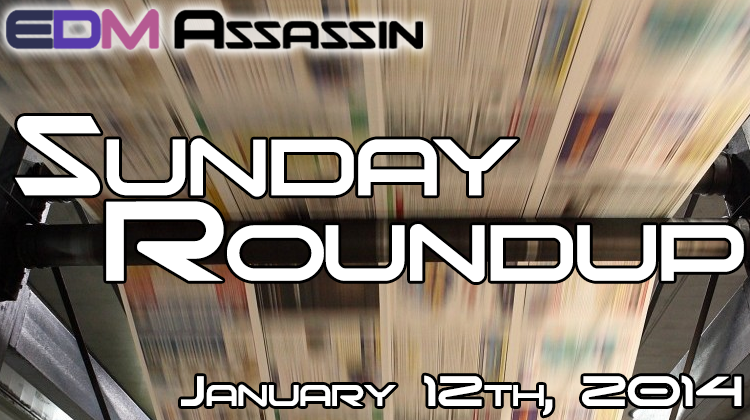 This week, as I was very busy, I had come up with the idea of the Sunday Roundup. This is where I post stories that I believe are interesting, but unfortunately didn't get around to it. There will be occasions will I just feel that it just deserves a blurb here rather than a whole post. That said, all these stories are very interesting and if you comment that you want to know more on a specific blurb, we will divulge further into it. That said, welcome to the first Sunday Roundup.
KV331 Accuses Martin Garrix of Using a Cracked Plugin
Remember the documentaries I posted about Martin Garrix? Apparently, in the video where he makes Animals, it showed Garrix using a plugin that is licensed to a "Team AiR." A quick Google search shows that they are a piracy group. KV331 handled it well though. Hours after the video, they tweeted Martin. They didn't get mad, but offered a free copy. Hopefully Garrix takes them up on the offer or at least buys it. I think he can afford it now.
https://twitter.com/kv331audio/statuses/421650794480283649
DJ Snake Falsely Accused of Plagiarism
Earlier this week, accusations were popping up everywhere that DJ Snake apparently ripped Breaux's track Breathe (Breaux's 'Later Night' Remix) on his track, DJ Snake vs. The Prodigy & Mercer – "Breathe (Parisian Vision)". Breaux's track happened to be released which was released 4 months ago. Unfortunately, this was blown out of proportions as no one decided to get a comment from Snake, Mercer, The Prodigy, or Breaux before posting this story. When the story came out, all of them tweeted the misunderstanding and cleared the air that DJ Snake did not plagiarize anyone.
PSA: @djsnake and I are on the same page.

— Breaux (@BreauxOfficial) January 7, 2014
Months ago @djsnake asked me for the "Breath" stems for an edit for his sets we all play @breauxxmusic . Huge misunderstanding i guess …

— MERCER (@Mercer_Music) January 7, 2014
Nicky Romero Almost Injured in a Pyro Incident
Nicky Romero was performing at Summerland and killing it. Fireworks were going off until they decided to not go the way that was planned. One of the firework(s) decided to not go up and just exploded right about the DJ booth, Nicky himself, and the crowd. Thankfully, Nicky Romero verified via Twitter that luckily he was not injured. Here is what the artists had to say:
Few burn wounds and a serious beep in my right ear:-( Back to Curacao in a few hours 😉 @dimitrivegas @likemike @nickyromero thxs guys !!

— WolfPack (@wolfpack) January 6, 2014
@dancingastro @nickyromero actually half my crew & @wolfpack got impact burns all over their bodies & 2 even got rocketexplosion on the ear

— Dimitri Vegas (@dimitrivegas) January 7, 2014
Doing interviews and fireworks shot straight in the room! Glad @nickyromero is ok. @wolfpack got hurt tho …

— LIKE MIKE (@likemike) January 6, 2014
@nickyromero my bro Steve's leg got burned, but luckely we're still allive!

— WolfPack (@wolfpack) January 6, 2014
Here is the video of the situation:
Club Space Writes an Open Letter to Deadmau5; Offers Free Show to Fans
Earlier this week, I wrote about how Deadmau5 went to war with with Trust Fund Kids, Bad Venues, and Promoters. We thought it was all over and it was going to be Deadmau5 exclusive events until this letter came out by Club Space.
AN OPEN LETTER FROM SPACE
Dear Joel deadmau5

We read with great interest about your recent show in Miami, and your concerns about fans being placed in the back of the venue while trust fund kids paid premium prices to be placed in front of the DJ booth…

We would like to extend an invitation for you to make these fans happy by hosting a free show for them at our legendary venue, Space. We will extend complimentary admission to all your fans and they will be able to enjoy your music on our huge dance floor without trust fund kids or anything else between you and them.

Space will cover your expenses up to $25,000 for your choice of private plane and five-star hotel so that you can come down and give your fans the opportunity to see you for free and experience you up close, the way you intended.

Please give your fans and Miami another opportunity to show you just how great this city is to perform in and how much we love having you here.

Sincerely,

Space
Joel responded and we are waiting for the details:
@clubspacemiami 25k for a jet? no need! just hook me up with a commercial flight sheesh. when? im there.

— dead mow cinco (@deadmau5) January 8, 2014
Darius Syrossian is allegedly assaulted at BPM festival over guestlist
This is a huge mess as there is no official statements that correspond with each other. Darius Syrossian claims that he was assaulted by event staff after the club did not honor his guest list. From there, Syrossian went back to the decks to where BPM co-founder, Craig Pedigrew order his staff to attack him. They dragged him through the crowd and almost killed him while threatening him. BPM released this statement:
"[Darius Syrossian] played the opening DJ set at Steve Lawler's VIVa Warriors showcase and was asked to leave the club towards the end of the night after he verbally assaulted our staff, making a female staffer cry, and continued to berate the Directors of BPM.

"He was escorted out and BPM provided the cab fare back to his hotel."
We are still waiting for proof. We aren't siding with anyone until we see proof. We hope for the best though.
3LAU Fires Back at Wolfgang Gartner because of Wolfgang's AMA
The story goes that on the Reddit AMA, people were asking Wolfgang Gartner a bunch of questions to which he could respond to ones that he desired. What happened was that someone allegedly asked about 3LAU to which Wolfgang Gartner insulted him. 3LAU went on the major offensive to respond to his answer and attack him. What actually happened was someone did a shady edit where they replaced the original artist name with 3LAU after Wolfgang Gartner answer to make it seem like Wolfgang was insulting 3LAU rather than the original. Everything was misunderstood and all statements have been deleted and retracted.
Ministry of Sound to Remain Open
Long story short, the Ministry of Sound was threatened to close due to "noise pollution." This was awful as they promote EDM. The mayor even helped intervene. Here is what Lohan Presencer, the chief executive of Ministry of Sound Group said:
We are pleased to have reached an agreement with Englewood Ltd that safeguards our future while allowing new development in Southwark.
This last news piece is very old, but I've been wanting an excuse to share.
Ookay Trolls a Crowd with His Animals Remix
This video speaks for itself so you need to watch.

Deadmau5 Quits Soundcloud
Apparently, this came as a surprise for everyone. He finally deleted his Soundcloud account. If people actually read his Twitter account, it doesn't mean that he won't post music. It means that he is going to solely use his subscription website. So before you go freaking out, just know it is like him switching venues rather than closing up shop.
Hope you enjoyed the first Sunday Roundup. Look for it next Sunday!
Leave a Reply