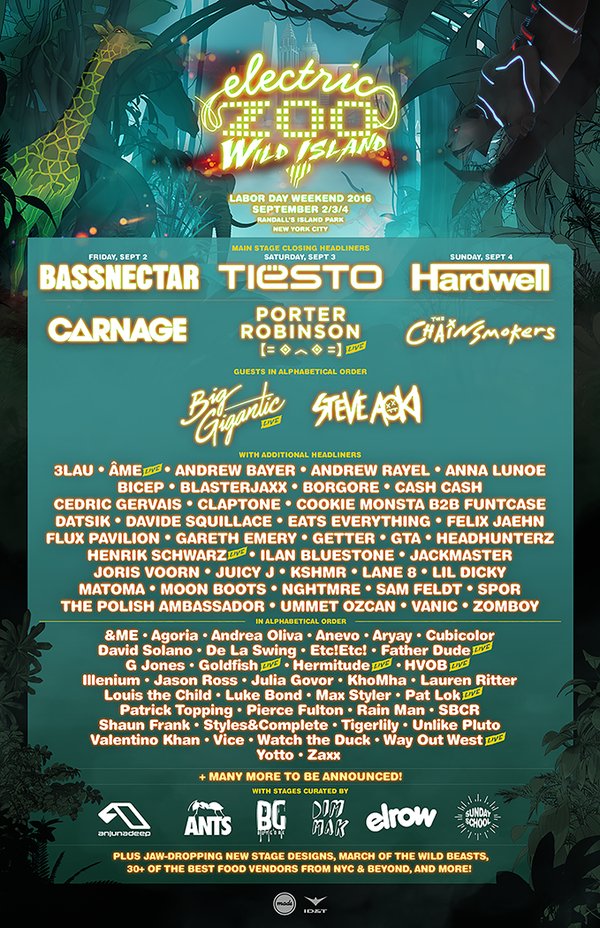 Since April 5th, there have been daily announcements to allow fans to know who is performing at eZoo New York.  Electric Zoo released new artists via youtube video announcement every day at 10am until April 27th.  From April 27th until May 4th artists were announced via social media.
Today, it has officially broken out into one combined list.
Here is that list:
Main Stage Headliners
Bassnectar
Tiesto
Hardwell
Carnage
Porter Robinson
The Chainsmokers
Guests in Alphabetical Order
Big Gigantic (Live)
Steve Aoki
With Additional Headliners
3LAU
Ame
Andrew Bayer
Andrew Rayel
Anna Lunoe
Bicep
Blasterjaxx
Borgore
Cash Cash
Cendric Gervais
Claptone
Cookie Monsta B2B Funtcase
Flux Pavlion
Gareth Emery
Getter
GTA
Headhunterz
Henrik Schwarz (Live)
Ilan Bluestone
Jackmaster
Joris Voorn
Juicy J
KSHMR
Lane 8
Lil Dicky
Matoma
Moon Boots
NGHTMRE
Sam Feldt
Spor
The Polish Amabassador
Ummet Ozcan
Vanic
Zomboy
In Alphabetical Order
&ME
Agoria
Andrea Oliva
Anevo
Aryay
Cubicolor
David Slano
De La Swing
Etc!Etc!
Father Dude (Live)
G Jones
Goldfish (Live)
Hermitude (Live)
HVOB (live)
Illenium
Jason Ross
Julia Govor
KhoMha
Lauren Ritter
Louis the Child
Luke Bond
Max Styler
Pat Lok (Live)
Patrick Topping
Pierce Fulton
Rain Man
SBCR
Shaun Frank
Styles&Complete
Tigerlily
Unlike Pluto
Valentino Khan
Vice
Watch the Duck
Way Out West! (Live)
Yotto
Zaxx
More are expected to be announced!
Stage Curators
Anjunadeep
ANTS
Buygore
DimMak
Elrow
Sunday School
This lineup seems amazing and I have had an amazing time looking up the artists every day. I am glad that I have been able to produce the blogs every day. Let me know what you think about the lineup, and about the daily posts. Here is a recap of the daily breakdown by the way:
Part 1 Announcement:
ARTSTS
Day 1: April 5: Tiesto, Bassnectar and Hardwell
Day 2: April 6: The Chainsmokers, Juicy J and Andrew Bayer
Day 3: April 7: Porter Robinson, KSHMR, Ilan Bluestone and Eats Everything
Day 4: April 8: Carnage, The Polish Ambassador and Anna Lunoe
Day 5: April 9: Spor and Getter
Day 6: April 10: GTA and Vannic
Day 7: April 11: Andrew Rayel and Matoma
Day 8: April 12: Borgore
Day 9: April 13: Flux Pavilion and Claptone
Day 10: April 14: Steve Aoki, Cash Cash and Jack Master
Day 11: April 15: Sam Feldt and Cedric Gervais
Day 12: April 16: Lane 8 and Andrea Oliva
Day 13: April 17: Ansolo and Cookie Monsta B2B Funtcase
Day 14: April 18: Big Gigantic, Ummet Ozcan and NGHTMRE
Day 16: April 20: 3LAU and a live performance by Âme
Day 17: April 21: Headhunterz and David Squillace
Day 18: April 22: Zomboy and Blasterjaxx
Day 19: April 23: Dim Mak and Bicep
Day 20: April 24: Goldfish and Hermitude
Day 21: April 25: Tchami and Datsik
Day 22: April 26: Gareth Emery and Joris Voorn
CURATORS
Day 8: April 12: Anjunadeep taking over the Sunday School Stage for a day.
Day 15: April 19: Buygore and Elrow
Day 22: April 26: ANTS
Part 2 Announcement:
Day 1: April 27th: Pierce Fulton and Rain Man
Day 2: April 28th: Agoria, Max Styler, and Way Out West!
Day 3: April 29th: Julia Govor and &ME
Day 4: April 30th: David Solano and ZAXX
Day 5: May 1st: HVOB and Cubicolor
Day 6: May 2nd: ETC! ETC!, Fatherdude, Illevium, Luis the Child, Luke Bon, Styles & Complete, Valentino Khan and Yotto
Day 7: May 3rd: SBCR, Unlike Pluto, Shaun Frank, G Jones & Lauren Ritter
Day 8: May 4th: SBCR, Unlike Pluto, Shaun Frank, G Jones & Lauren Ritter
Also, you can head here to buy tickets, transport passes, VIP Tables and rent lockers.
Shh. Can you hear that? It's the sound of over 100 of the world's best DJs charging their way towards #EZooWild! ??? pic.twitter.com/KvKDYasjYY

— Electric Zoo NY (@ElectricZooNY) May 5, 2016
https://www.facebook.com/ElectricZoo/photos/a.93592273024.79985.93536443024/10153814952588025/?type=3
Leave a Reply